Phone: 360-754-7113              Website: https://www.capair.com
Capital Aeroporter offers Shared Ride Van Service available between SeaTac Airport and the Greater Puget Sound area, including:  Seattle, Tacoma, Bellevue, Kent, Everett, Federal Way, Kirkland, Redmond, Lakewood, JBLM, Olympia, Edmonds, Bremerton and more.
For rates and reservations, please visit  Capital Aeroporter on the web or at their kiosk located on the 3rd floor of the Parking Garage for more information. 
Please note, due to the Covid-19 Global Pandemic Capital Aeroporter's kiosk located on the 3rd floor of the Parking Garage will not be staffed at this time. For customers with existing reservations, please proceed to the 3rd floor of the Parking Garage and check-in via the welcome text or email you received with your reservation confirmation.   
Additional Precautions During the COVID-19 Crisis

To reduce the spread of COVID-19 during travel and protect the health and safety of our customers and drivers, we have adopted the following measures established by the United States Centers for Disease Control and Prevention (CDC) and the Washington State Department of Health Cloth Face Covering guidelines :
Cloth Face Covering or Mask that covers nose and mouth - Required for all Customers and Drivers
Social Distancing—maintaining a distance of approximately 6 feet (2 meters) between employees and customers—whenever possible
Sanitizing Wipes and Hand Sanitizer are available in every vehicle for Customer and Employee Use
Frequent and Thorough Disinfecting of our Vehicles and Work Space
Please contact Capital Aeroporter directly for any assistance via email at customerservice@capair.com
SEA Airport Garage and Ground Transportation Map.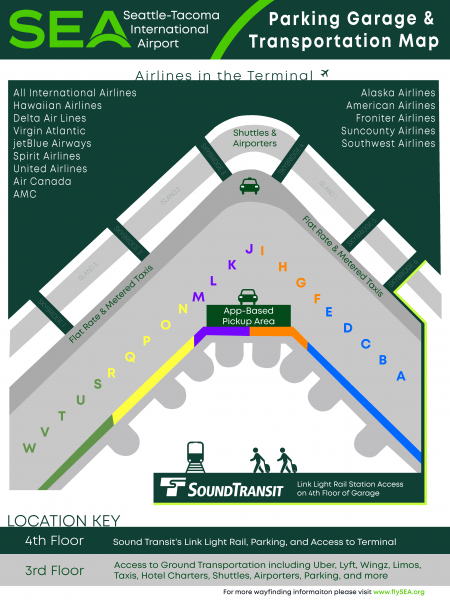 For navigation assistance, please use our interactive map or download the SEA Mobile App for step-by-step directions. View an expanded version of the