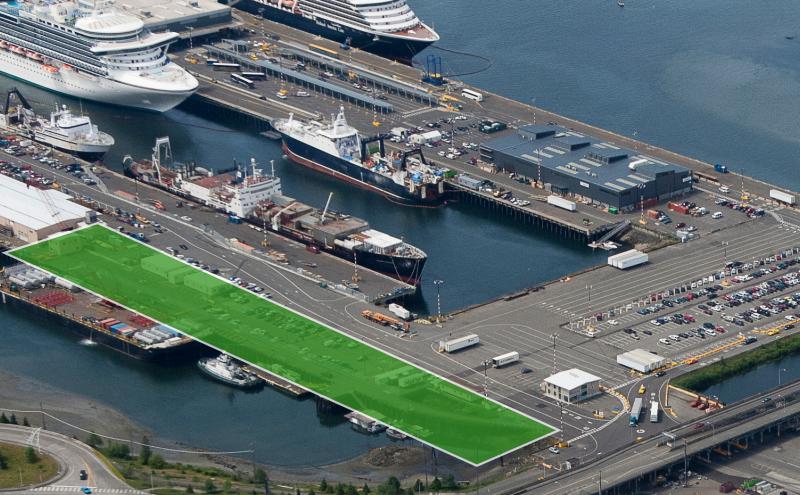 The project will redevelop berths 6 and 8, and provide 750 feet of moorage to ensure the long-term viability of the Port as the home to the North Pacific Fishing Fleet while improving the marine environment by removing creosote timber pilings.
Project Overview
This project will redevelop Berths 6 and 8 along the northeast side of Pier 90. Improvements include pile replacement, a new wharf structure, a new float system, bulkhead improvements, and office consolidation for operations, fishing and industry customers. The new berths will be equipped with shore power for fishing and industrial vessels.
Demolition of approximately 62,250 square feet of condemned existing timber apron and 830 linear feet of seawall (northerly portion of Berth 6 and entire Berth 8)
Construction of a new 650 pounds per square foot pier tailored to fishing vessel and industrial customers, including applicable utilities, bollards, and steel fender system
Improve marine environment by removing creosote timber pilings
The project assumes no additional overwater coverage.
Purpose
The purpose of this project is asset and revenue preservation.
Business Plan Objectives
Bring Berths 6 and 8 back into service for large fishing vessels (and other customers) with improved berth efficiency and access
Provide more flexibility to accommodate a variety of vessel sizes
Century Agenda
This project supports the Port's Century Agenda by restoring capabilities of Pier 90 structure similar to the remaining Terminal 91 aprons.
Permitting
This project requires environmental permitting and review. Likely permits/approvals include:
State Environmental Policy Act (SEPA) Review
City of Seattle Shoreline Substantial Development Permit
City of Seattle Construction Permit
Timeline
| | |
| --- | --- |
| Commission construction authorization | Q3 2023 |
| Construction starts | Q2 2024 |
| Open for use | Q4 2025 |
Estimated Project Costs
Total cost for this project is $76 million.
See the Port of Seattle's Waterfront Vision