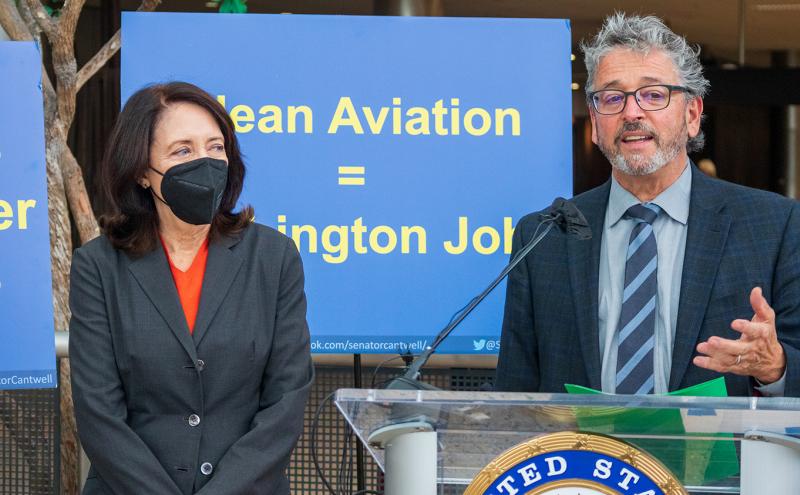 Oct 27, 2021
The Port of Seattle is making great strides to reach its Century Agenda goal to be the greenest, and most energy-efficient port in North America. Driving the Port's efforts to achieve this goal has been a personal priority since I was first elected to the Port of Seattle Commission in 2015. As president of the commission, and as a founding member of the Port's Energy and Sustainability Committee (now the Sustainability, Environment, and Climate Committee), I'm proud to serve with fellow commissioners who share these goals.
The Port of Seattle Commission voted yesterday to accelerate its greenhouse gas reduction targets by 10 years to be net zero or better for Port-owned emissions by 2040. The Port also committed to accelerating and expanding its goal for emissions from industries operating at its facilities to be carbon neutral or better by 2050.
The policy directives coincide with the Conference of Parties 26 (COP26) meeting in Glasgow, Scotland. The urgency for climate action is underscored by the UN Secretary General's recent statement that the impacts of climate change are a "Code Red for Humanity."
These actions reflect the Port's recognition of this urgency. Along with our partners at the Northwest Seaport Alliance (NWSA), we're making significant investments in green infrastructure, such as shore power, as well as advancing state and federal policies that enable our tenants to meet their climate goals. As a public port, these investments are not just the right thing to do, but they also give us a competitive advantage because businesses are increasingly seeking ways to reduce their emissions. For example, Amazon, Ikea, Patagonia, and others just pledged to use only ocean shippers that use zero carbon fuel by 2040.
We're also making progress in aviation. Last week, I had the honor of joining Sen. Maria Cantwell and representatives from Alaska Airlines, WSU, Climate Solutions and SkyNRG for a press conference at SEA Airport on sustainable aviation fuels (SAF). The purpose of the event was to highlight the $1 billion in federal grant funds for SAF and a fuel blenders tax credit of up $1.5 for every gallon of SAF produced that Cantwellhe had included in the Build Back Better Act budget reconciliation legislation as currently drafted.
The Port has been working to make SAF a viable option for over a decade, partnering with Boeing, Alaska Airlines, Washington State University, and many others to identify the infrastructure, financing, and feedstocks to make our SAF vision a reality for Washington. We recently were part of a huge victory with the passage of a Low Carbon Fuel Standard in the Washington State Legislature, which will make us more competitive with California and Oregon in attracting Sustainable Aviation Fuel investment and supply. I'm particularly excited that a study I championed with King County to evaluate the viability of using the County's municipal solid waste as a SAF feedstock is about to get underway.
Sustainable Aviation Fuel is just one example of our aviation division efforts. Other efforts include signing a 10-year contract in Q2 2020 to supply renewable natural gas to fuel both the boilers and Rental Car Facility bus fleet at SEA, use of renewable diesel in diesel fleet vehicles, and procurement of Green Direct electricity for our Puget Sound Energy electricity accounts. 
Implementing the objectives within the 2020 Northwest Ports Clean Air Strategy and the strategies in the Port's implementation plan, Charting the Course to Zero: Port of Seattle's Maritime Climate and Air Action Plan (MCAAP), further advance our maritime reduction efforts to provide shore power for cruise ships and improve equipment efficiency.
The MCAAP identifies emission reduction actions by 2025 and by 2030 for each source of maritime-related emissions to achieve a 50 percent reduction in GHG emissions by 2030 and remain on course to phase out seaport-related emissions by 2050.
The impacts of climate change are accelerating at critical levels. Acceleration of our GHG targets aims to combat those impacts head on. These efforts build on the reduction initiatives already underway and advance the Port's position as a leader in building the clean economy as we chart our course to zero.