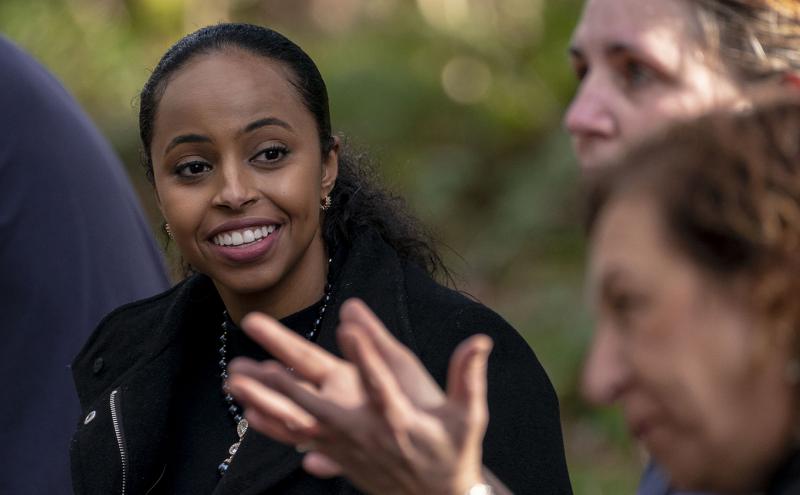 Apr 26, 2022
Last week marked the completion of my first 100 days as a Port Commissioner. I am so grateful to everyone who supported me along this way. 100 days is a somewhat arbitrary benchmark but it's a useful measure to look back.
Commissioners have full-time jobs outside our official duties at the Port of Seattle and Northwest Seaport Alliance. Despite our constrained schedules, I am happy to report that we have managed to accomplish quite a lot so far this year. I can say with certainty that these accomplishments have only been possible thanks to the hard work and tenacity of thousands of staff, workers, and community members. From airport baggage handlers to the operators of our grain terminal, from our economic development team to our longshoremen, I am so grateful for the contributions of every member of the Port community. 
Time has moved quickly since my swearing-in ceremony on January 4, 2022. Here are some highlights:
13 Official Public Meetings, Study Sessions, and Retreats (Commission, Managing Member, Committee and Special Meetings)
6 Internal Committee Assignments (Audit, Equity and Workforce Development, Aviation Committees with the Port of Seattle, Audit, Governance and Environment Committees at the Northwest Seaport Alliance)
4 External Board Assignments: (Highline Forum, Joint Advisory Committee, Puget Sound Regional Council Economic Development District, Soundside Alliance)
155 Meetings: Approximate number of Port meetings scheduled through April 15. (Some commission meetings were almost five hours long).
Career Launch Pilot Program

Youth Green Jobs

Some of the best solutions solve more than one problem. Today the maritime sector is facing an aging workforce. At the same time pathways to good-paying careers are not always clear and are not always open to all.

My fellow commissioners and I recently passed an order I drafted. The Career Launch is a three-year, $4.1 million investment to implement a pilot program that will explore how to evolve our existing youth jobs program from a temporary response to COVID-19 recovery to an ongoing, permanent program guided by the core priorities of the Port's workforce development efforts.

This new Youth Career Launch Program will align with the vision I have heard from community partners and young people across King County, by helping young people both gain experience and skills AND make that critical connection to an actual family-wage job.

Once or twice a year, the Port hosts planting events, which are open to community members. The goal of these events is to plant trees, clear weeds and invasive species, and/or some other form of habitat maintenance and restoration. Perhaps an even more important byproduct of the program I hope to build upon is the inspiration these programs provide to young people to work in environmental careers. Getting people out into the environment and seeing firsthand should be the first steps on a pathway to environmental careers.

The Port owns hundreds of acres of land around SEA Airport, so there's a lot of maintenance to be done. The most recent Planting Event was on February 9-10, and it included staff and youth participants from our amazing partner organization Partner in Employment (PIE).

As I said at the event, "For organizations and young folks in South King County, it's critical to help restore and preserve the land where they work and live. It's also vital that, as a Port, we focus on improving opportunities for green jobs and working with our partners to address our workforce development needs."

Two Proclamations Recognize Overlooked History

Connecting Workers to Employment

In February I sponsored a proclamation passed by the Commission commemorating Black History Month.

Then in March, the commission joined me in proclaiming support for Women's History Month. Taking time to acknowledge inspiring stories from those not typically remembered provides more opportunities to celebrate what can be done.

Creating job opportunities is one of the most important aspects of the Port's mission and jobs are one of the things that drives me most as a commissioner. Last month I attended one of the three recent job fairs hosted by the Port. It was packed! Even during record, low unemployment people continue to look for new opportunities.

IAF Reveal

On March 3, I was excited to join Governor Jay Inslee at the unveiling of the brand new International Arrivals Facility at Seattle-Tacoma International Airport (SEA). While the event was tempered by somber reminders of the terrible conflict impacting the people of Ukraine, speakers (including the Governor) reminded attendees that the new International Arrivals Facility, with its wide-open, light-filled design, will serve as a symbol of freedom and opportunity to thousands upon thousands of people from across the world who come to Washington state in the years to come.

These people will arrive through SEA just like my parents and I did when we immigrated to the United States decades ago. I know the new International Arrivals Facility will be a fantastic first step towards embracing new immigrants to the United States — including refugees fleeing the conflict in Ukraine.

Restroom Access for Truck Drivers

Blessing the Fleet

We took action last month to alleviate a very human contributing element of the national supply chain crisis. As a Port of Seattle Commissioner, I also serve as a managing member of the Northwest Seaport Alliance (NWSA). At our February NWSA meeting 

I introduced an amendment to our state legislative agenda enabling the Alliance to advocate for sufficient bathroom access for the truck drivers who move valuable cargo across our state. I'm happy to report that the state legislature subsequently voted to approve House Bill 1706, which will restore access to this basic human requirement for thousands of our truck drivers, many of whom are immigrants to this country.

Our commercial fishermen and women risk their lives every time they leave the dock. This year Port staff, other elected officials, and I celebrated the 94th annual Blessing of the Fleet by Ballard First Lutheran Church. This year the Captain Allison Demmert and her vessel, Ultima, represented the fishing fleet and will fly the flag commemorating the blessing. Demmert, originally from Edmonds, is an Alaskan Native, graduate of the Seattle Maritime Academy, and is the first woman recognized at the blessing. Representatives of District 36 Noel Frame and Liz Berry, and Seattle City Council Member Dan Strauss also joined in the celebration and made remarks.

Sending Medical Aid to Ukraine

So many people have stepped forward in support of the people of Ukraine. In March we highlighted the good work of a few groups providing direct support. The humanitarian nonprofit Nova Ukraine and Stanford University Students partnered with the Ukrainian Association of Washington State (UAWS) to coordinate $3.5 million worth of emergency medical supplies.

Pallets of aid were loaded on a cargo flight that headed to Ukraine from Seattle-Tacoma International Airport (SEA). Governor Jay Inslee, Seattle Mayor Bruce Harrell, and I were on-hand to highlight these Ukrainian community organizations and the relief efforts underway throughout the region.

Read a Port of Seattle Ukraine Statement posted early in the conflict.

 

 

Green Light Means Park

The new automated parking guidance system, recently debuted on the first two floors of the eight-floor parking garage at SEA, is one of the largest-scale installations in the country at over 12,000 stalls. With LED lighting and smart camera sensors to indicate stall availability and help customers locate ADA-accessible and electric vehicle parking stalls, the guidance system will cut search time in half.

 

South King County Organizations to Receive $687,000 for Environmental Improvements

Eighteen organizations serving communities around Seattle-Tacoma International Airport (SEA) received the funding of environmental grants in the second round of funding under the Port of Seattle's South King County Community Impact Fund. The Port awarded funds support public improvement projects.

Welcoming Afghan Refugees

In February we partnered with airport area hoteliers and the state to give arriving Afghan refugees a warm and safe welcome. Refugee assistance groups, the Port of Seattle, and Washington state are finding innovative ways to partner with industry leaders as we receive new refugees as members of our community.

As an early port of entry for my family entering the United States, I know firsthand what it means to be welcomed — or not — to a new land. I am proud of the work Port employees and our partners are doing. It's the least we can do to help support people leaving some of the most desperate situations imaginable.
Subscribe to receive email updates from Commissioner Mohamed