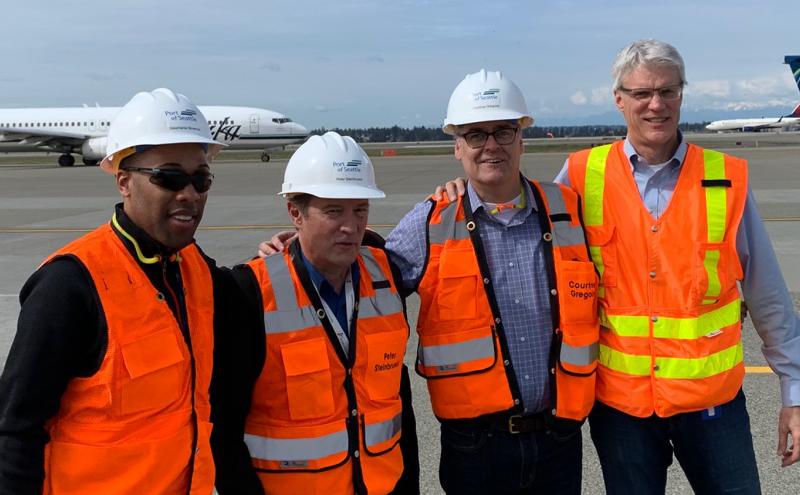 Apr 26, 2019
A lot going on — monitoring construction at Sea-Tac
With over 50 million passengers at Sea-Tac airport in 2018 and growing, many travelers have been experiencing frustration over long lines at the TSA checkpoints, Customs and Border Patrol processing, and construction activity.
The good news is that major capital projects are well underway to address rapid growth in travel demand and improve customer experience, comfort, and convenience. As co-chair of the Port Commission's Aviation Committee along with Commissioner Courtney Gregoire, I recently toured some of our significant projects underway, and I was impressed — a lot is going on! Overseeing the progress of these major projects is an important part of my oversight role on the commission.
Much of the work of the Port Commission takes place inside in our offices and at public meetings. I also like to see firsthand where the real work happens and take every opportunity to meet Port staff and contractors on site and in the field. It provides me with useful insight into the progress we are making and some of the challenges encountered.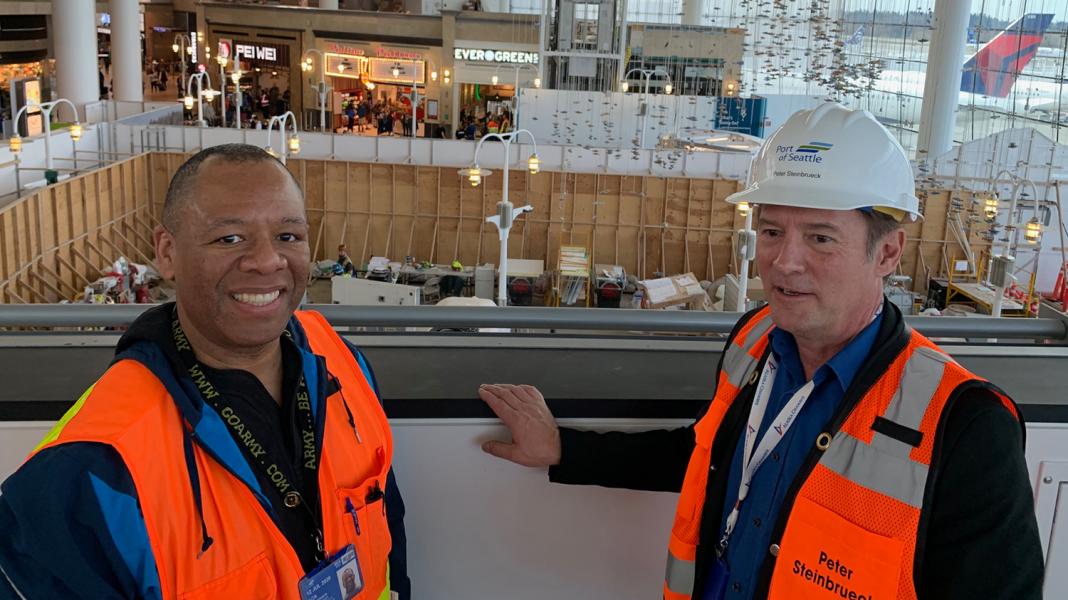 Most visible to Sea-Tac Travelers are our new dining and retail concessions in the Central Terminal. Bradley Benson, Airport Capital Projects Manager, showed me the work being done and said that every 90 days there would be a new place to eat, drink or shop at Sea-Tac.
Port policy as adopted by the Commission at the airport strives to reflect the values of our community in what we expect from vendors. New leases are scored against criteria that prioritize women- and minority-owned businesses, labor harmony, quality products, and local flavor.
Rarely seen by the public but no less important is the baggage handling system. A veritable leviathan deep below the ticketing level, the baggage is handled by an antiquated 10-mile maze of conveyor belts with six independent "arms" serving different airlines. Built in the 1970s to handle 25 million passengers, the old system is inefficient and at capacity. In the last five years, 10 new airlines added service to Sea-Tac Airport. Sea-Tac was the eighth-busiest U.S. airport in 2018 for passenger volume. International traffic was up 5.8 percent in 2018 and added 5,427,551 passengers. The new state-of-the-art baggage system will take years to complete and will be more efficient, reliable, and energy efficient.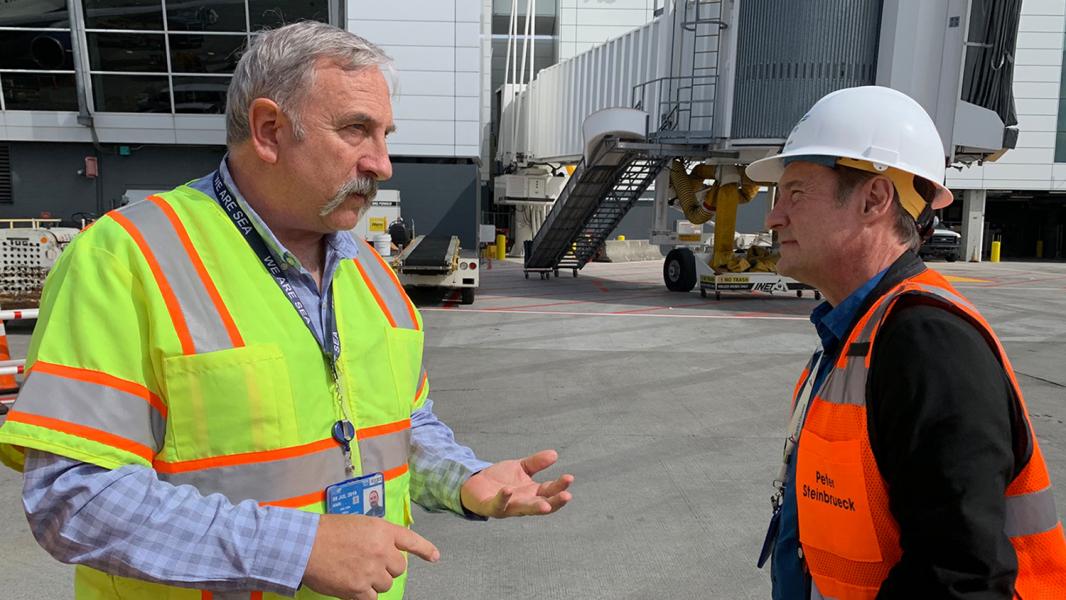 Next up, our tour took us out on to the airport tarmac or "sterile side," led by Paul Pelton, manager of airport operations busy with the big jets moving in and out of gates at International Arrivals gates. We looked at a section of the new bridge that will eventually be longer than two football fields and higher than the tail of a 747. The bridge will connect the International Arrivals Facility to a grand new arrivals hall that will house the customs screening area.
Why a bridge and not a tunnel, I asked? Wouldn't that have been cheaper and less obtrusive? Surprisingly, the bridge was the less expensive option — with an added benefit. Currently, international passengers' first impression of the United States is a windowless corridor and hold space, packed with people, resembling an uninviting basement. Next year after the bridge is complete, travelers will be welcomed by grand views of majestic Mt. Rainier, the expansive airfield, sunlight, and evergreen trees beyond.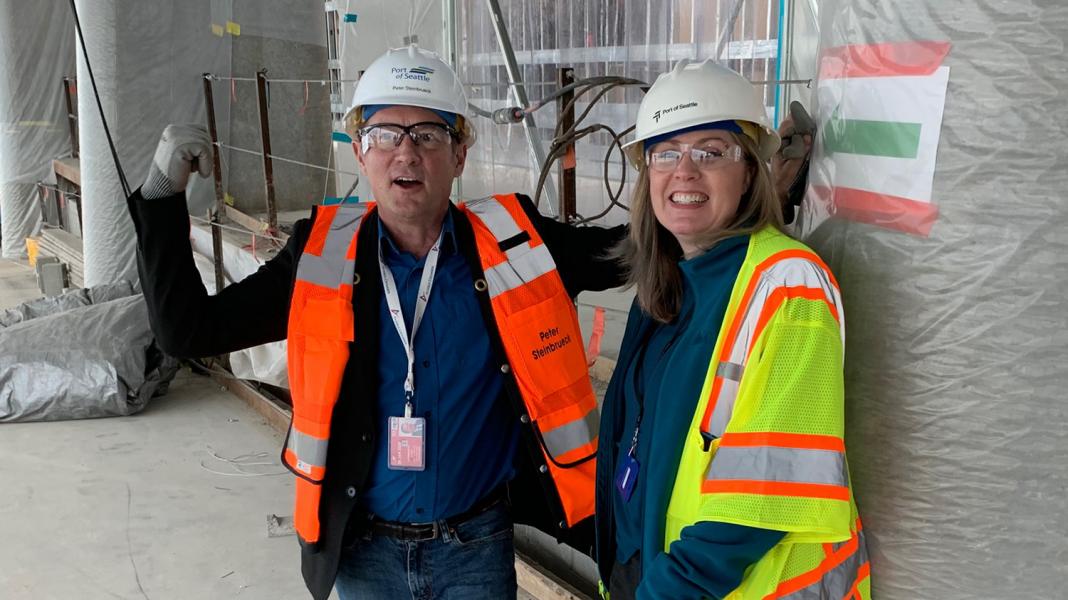 Our tour concluded with a look inside the new International Arrivals Facility where Janet Sheerer showed off this component of the project. A year ago, as a new commissioner, the project appeared to be on the verge of spiraling out of control with delays and escalating costs. Working with my Commission colleagues, we determined that an in-depth independent review of the construction program was needed, and soon. So, we appointed a panel of four experts in airport construction to evaluate the construction costs, contract, the scope of work, management and delivery challenges.
After implementing many of their recommendations, including assigning our Chief Operations Officer Dave Soike to a high-level oversight role. The project is back on track and expected to be completed and operational by the third quarter of next year. We are fortunate to have Dave's 35 years port experience and expertise working with project team partners to get the job done efficiently and on schedule.
I have a few takeaways from my tour:
First, the experience and professionalism of Port staff — they're awesome! As a community, we are fortunate to have such a committed group of people working for us. Thanks to Benson, Janet, Paul, and Dave for the tour and keep up the great work.
Second airport construction is expensive! It's not like remodeling your kitchen — it's far more complex to do construction work at Sea-Tac airport where space is very tight, without disrupting existing service. Every employee needs to get a background check and security badge and pass through checkpoints daily. To get to the job site contractors, equipment, and materials all need to do the same.
Third, it's always great to see things first hand. We are briefed extensively on projects, budgets, and timelines, but nothing replaces talking to the people who are doing the work and seeing the work progress on the ground.
Developing new policy and providing strategic direction for the Port is a central role of the Port Commission. Oversight is fun and interesting, but also a great way to better informed on what's going on, so decision making is better informed, and midcourse corrects can occur when necessary.