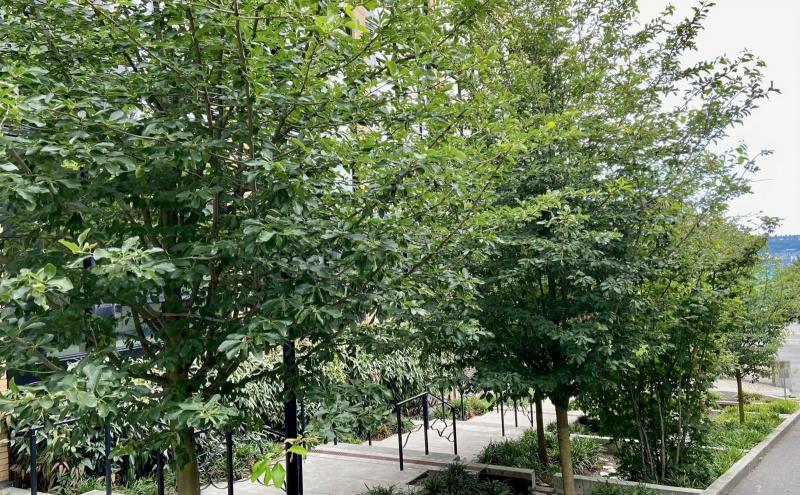 Jul 20, 2021
By Commissioners Peter Steinbrueck and Stephanie Bowman, Co-Chairs of the Energy and Sustainability Committee
Our weather is changing. Recent record-breaking temperatures have made this clear. The Port of Seattle, whose mission is to promote regional economic development and skilled jobs in an equitable,  environmentally responsible manner, has made substantial financial investments in programs to reduce our impacts and protect our natural resources. Our forest management and tree stewardship efforts are just one piece of this remarkable effort.
The heat dome that blanketed the Northwest brought home, once again, the impacts of climate change to our health, oceans, atmosphere, and quality of life. And it reminds us of the importance of tree canopy to mitigate the heat throughout the day.
The King County heat-mapping study, highlighted in a recent Seattle Times article, found that communities with fewer trees and more pavement will experience more extreme temperatures. In most urban areas, hard paved streets and sidewalks amount to 30% to 40% of our land. Without trees, these areas are vulnerable to even more extreme heat.
As temperatures continue to rise, investments in urban tree canopy are more important than ever, especially in south King County, which has less tree canopy than many King County neighborhoods, and tends to be home to lower-income populations and communities of color. Trees not only provide shade and filter pollution, they sequester climate-changing carbon, and ease the negative effects of urban heat and noise.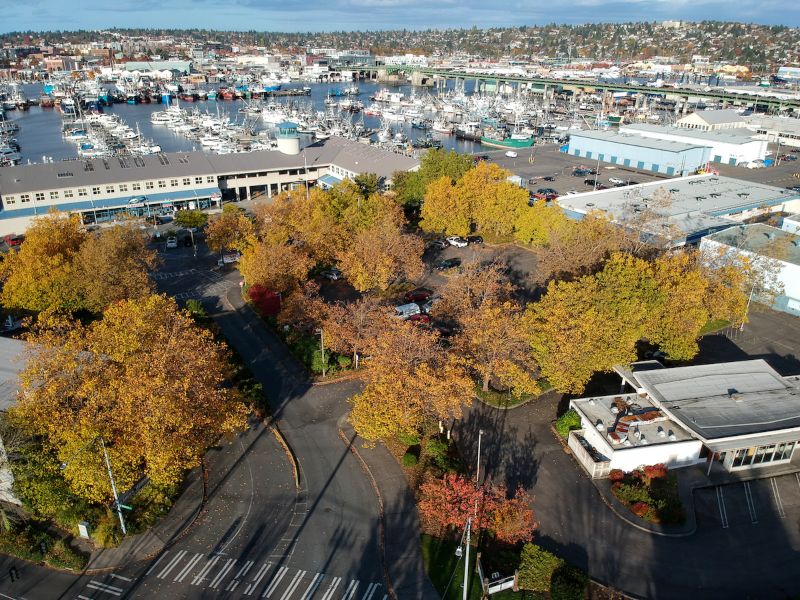 As co-chairs of the Port's Energy and Sustainability Committee, we're proud of the Port's work in planting more trees, and we will continue to partner with our neighboring communities to expand urban tree canopy, especially in disproportionately impacted communities that have lower tree canopy.
Here are just a few programs that are helping to increase the canopy:
Airport Community Ecology (ACE) Fund
In 2016, the Port invested $550,000 in programs that help bolster ecological and environmental health in SeaTac, Burien, and Des Moines.
 
Urban Forest Management Plans
The Port also invested $450,000 to create and implement urban forest management plans in these cities to guide future tree-canopy expansion, in collaboration with Forterra and local community groups.
 
Green Cities Partnership
In 2018, Forterra partnered with SeaTac, Burien, and Des Moines to develop a 20-year plan to restore forests and increase the tree canopy across these three cities. Once implemented, the plan will restore 738 acres of dense forest, which is the equivalent of taking 1,740 cars off our roads.
•  Once SeaTac restores 186 acres of dense forest to a healthy condition, SeaTac has the potential to mitigate the emissions of nearly 450 cars per year
•  Once Des Moines restores 226 acres of dense forest, Des Moines has the potential to mitigate the emissions of more than 540 cars per year
•  Once Burien restores 326 acres of dense forest, Burien has the potential to mitigate the emissions of more than 750 cars per year
 
South King County Fund (SKCF)
In 2018, the Port created the South King County Fund (SKCF) providing $10 million from 2019 to 2023 to address environmental health, noise, and sustainability in near-airport cities in Burien, Des Moines, Federal Way, Normandy Park, SeaTac, and Tukwila.

In 2021, fourteen organizations serving South King County communities have been awarded the SKCF Environmental Grants, reflecting the rich diversity of the people and demonstrating the Port's commitment to community-led environmental improvements in the near-airport cities, that have also been hardest hit by COVID-19.

King County-Cities Climate Collaboration (K4C)
In addition to the Port's direct investments, the Port, has been working with local governments to shape policy and programs that cut harmful greenhouse gas emissions in our region, including investments in tree planting initiatives and stewardship of healthy urban forests across King County. In 2020, K4C reached its goal of planting more than one million trees across the region and then set a new goal of three million trees planted by 2025. That's the equivalent of taking 186,000 cars off the road for one year.
We've come a long way, but the shock of the recent ultra-high temperatures and resulting heat-dome effect is a wake-up call. We need to continue our proactive efforts to respond to the local impacts of climate change.
Since 2005, the Port has successfully implemented a suite of projects to improve ecological processes and functions critical to fish and wildlife:
Created, restored, or enhanced 177 acres of wetlands and buffers near SEA Airport, including planting 350,000 native trees and shrubs
Enhanced two miles of salmon habitat in Miller and Des Moines Creeks and created 69 acre-feet of floodplain storage on the Green River
Restored more than 35 acres of estuarine and marine habitat and has planted more than 45,000 native trees and shrubs along the Duwamish Waterway and Puget Sound
Planned restoration of 60 acres in the Green-Duwamish River watershed.
The Seattle Port Commission sees its role as a responsible steward of our land's trees, and open spaces. Building on these successes, we will continue to review our policies and programs to strengthen our commitment to environmental stewardship and the communities we are part of.
Sign up to receive email updates from Commissioner Steinbrueck