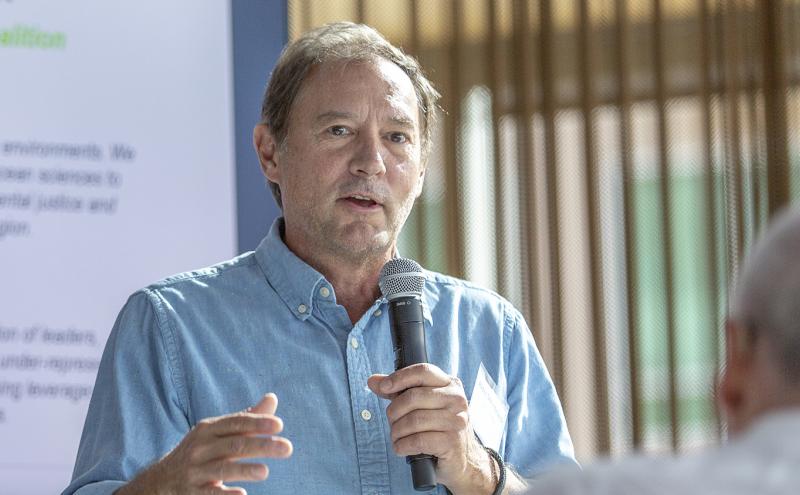 Mar 20, 2020
Keeping the health, safety, and well-being of the public and our workforce is the top priority for the Port of Seattle and the great Northwest Seaport Alliance (NWSA). We are living through incredibly uncertain times and the global pandemic we are experiencing is clearly unprecedented.
Earlier this week, I spoke at a press conference at Seattle-Tacoma International Airport (SEA) — the 8th busiest airport in North America. Our main message to the public was that the airport will remain open and we are doing everything we can to keep it safe for our traveling public and residents. This region and the entire state depend on us to keep the airport running and we take this responsibility very seriously.
In addition, the NWSA Gateway remains open and continues to function well. The NWSA and our supply chain partners are all focused on mitigation efforts to slow the spread of the virus. The NWSA's labor partners have also taken similar precautions.
The Port of Seattle owns and operates critical transportation infrastructure that is vital to our region. SEA alone is the largest transportation hub in the five-state region with more than 51 million passengers annually. And our seaport — the fourth largest gateway in the country serving farmers, manufacturers, retailers, and service providers throughout Washington — is a critical part of the supply chain.
Demand for air travel has decreased. I have spoken with airlines that report a decrease in passengers by up to 60 percent over the last three weeks. One airline mentioned that after 9/11, passenger volumes did not reach 2000 levels until 2015, so you can imagine the long-term impacts on this industry.
On the topic of health screenings at SEA for arriving international passengers, we have been assured by local representatives of federal agencies that the international arrival process requirements are the same at every airport, although they might occur in a different order depending upon the facilities and layout of the international terminal or terminals. The international arrivals process changes frequently and may differ for passengers by their itinerary or health. The latest guidelines can be found at the Department of Homeland Security (DHS) website.
While the processing of international arrivals and health screenings at SEA are a function of our federal partners, such as the U.S. Centers for Disease Control and Prevention (CDC), the U.S. Customs and Border Protection (CBP), and the Transportation Security Agency (TSA), we continue to communicate with them what we are seeing at SEA and have offered any resources we can to enable them to meet their mission.
Our NWSA CEO has reported that much of the operational disruption experienced to-date arose from the loss of cargo volumes originating in mainland China and the disruption in the global supply chain. We are optimistic that our cargo volumes will increase over the next few months.
Last week, we announced the two-week delay of our cruise season and we continue to work with our cruise line partners to monitor the situation.
We are all in this together. I trust in our highly capable leadership team to get us through this crisis, and I know we must continue working closely together in a highly coordinated fashion to tackle this unprecedented challenge.
I want to especially thank all of the over 19,000 employees working at SEA who are keeping this airport running, including our airport workers, TSA and CBP, airlines, and restaurants and concessionaires. These are the people who make air travel work, and we are grateful for the sacrifices they are making to keep the airport running safely and efficiently as possible today.
I also want to thank all of our over 20,000 employees who work at our seaport terminals including our terminal operators, longshore workers, steamship agents and freight forwarders, to the trucking companies and railroads moving cargo to and from terminals and our NWSA staff.
We are so grateful to those working on the front lines and behind the scenes to make the airport and seaport function successfully under such trying times. 
For first responders and public health teams that are staffing up in response to a new level of need. And for the shippers and other businesses that need to keep the vital supply chain of goods flowing — everything from pharmaceuticals to equipment and supplies — that need to travel to and through our region.
The pace and scale of change is something that all business owners, from the largest to the smallest, and their many employees are struggling to navigate. We started to see the effects of the coronavirus stand down really affect our facilities in the last two weeks.
We are working urgently with our tenants and partners to discuss how the Port can effectively join federal, state, and local relief packages to support businesses and workers across our industries.
While the situation is unprecedented and extreme, this is not the first time the Port has stood behind its community — from the recession more than a decade ago, to last year when we created an ad hoc donation center for employees affected by the federal government shut down.
The Port, working in close coordination with our partner agencies, will continue to respond with all resources available to this crisis by putting public health and safety first.
And lastly, thank you to all the Port staff who are taking all the necessary steps to ensure their health and safety and that of their families. We appreciate you being flexible and working from home when possible and adhering to the social distancing guidelines. We have also announced Public Health emergency leave that our non-represented workforce can utilize for up to 14 calendar days (two workweeks) for a period of self-quarantine and/or with a confirmed diagnosis of COVID-19.