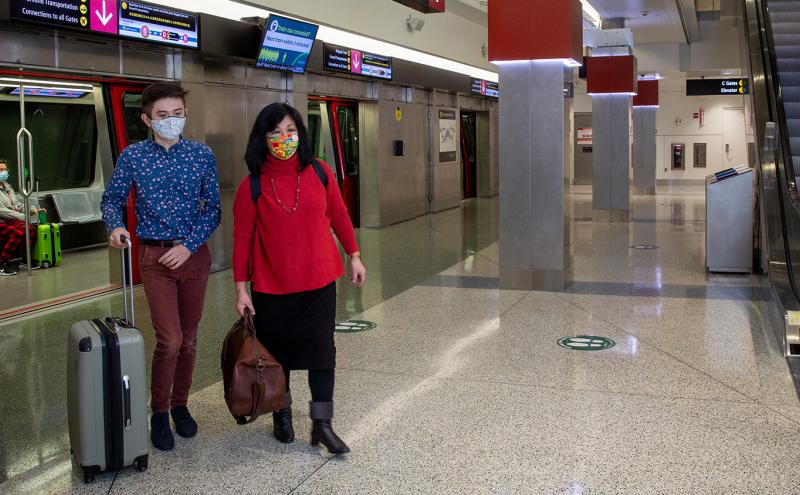 Information is at #FlyHealthySEA and flySEA App 
March 15, 2021
Travelers are asked to maintain awareness and FlyHealthy@SEA COVID-19 protocols as this weekend marks the start of a month-long spring break period projected to see increases in traffic at Seattle-Tacoma International Airport (SEA). Check out the flySEA app and this spring break travel guide for information. Spring break is when travel increases after the winter months and current projections predict the largest number of travelers at SEA since the pandemic began.
SEA encourages the public to maintain healthy travel measures and be prepared if you haven't been to the airport for awhile. You'll see longer lines due to physical distancing, but take advantage of touchless tech efficiencies like Pre-Booked Parking. Free masks are at the front doors. Support airport businesses with more dining and retail offerings, plus local musicians who lost the opportunity to perform live at the airport.
Our globally accredited FlyHealthy@SEA prioritizes traveler safety, health, and well-being with protocols like mandatory masks, medical-grade cleaning, touchless technology, and plastic protective barriers. Since the latest TSA mask mandate, more than 3,000 free masks per day are handed out to travelers.
The airport asks that you comply with directions to limit the spread of COVID-19. Stay home if you are sick, expect to wear a facial covering for the duration of your journey, wash or sanitize your hands frequently, and embrace physical distancing.
What's new at SEA
We enter Phase 3 of Governor Inslee's Healthy Washington — Roadmap to Recovery plan on March 22. Sit-down dining will be available at 50% capacity, in addition to existing to-go options for food and beverage. Alcohol service is available daily until 11 p.m. Airport dining and retail are going above and beyond to protect your health and well-being. Eat and shop with confidence.
SEA launched Pre-Booked Parking as an innovation for seamless, contact-free travel. Book and pay for parking in advance of arrival, drive your own vehicle, and scan your booking QR code on your phone at garage entry and exit. Sign-up to receive Pre-Booked Parking Promotions and save 10% on your first booking.
Stay tuned for more touchless tech later this spring with SEA Spot Saver, a new pilot program for online reservations the security checkpoint lines.
Support SEA Music! A new high-resolution digital 12x7 ft. LED music wall debuts this week on Concourse C with a two-hour program highlighting over 30 musicians who performed live at the airport before the pandemic. Developed with Gigs4U, Promosa, and Band in Seattle, travelers can enjoy the beloved music program once again with a virtual experience that bolsters connections to the airport and Pacific Northwest. Our local musicians faced many challenges this year, and this pays forward the joy of music and concerts to support those artists who are hanging in until they can get back to playing at SEA.
New Lost & Found – One of the worst things about travel is if you lose something! Yikes! Now there's a larger Lost & Found to help. Located on bag claim level across from carousel 13, the new office is twice the size of the old one and ready to help with an overall return rate of 89.6 percent!
Good reminders
Face masks or coverings are required by federal law at the airport. Bowls with free masks are at entrance doors of the airport. You may stop by the Information Desk, look for the Mask Up SEA cart, or ask a Pathfinder in green.
Discovery Health MD has a COVID-19 testing location for non-symptomatic travel testing.
Be Aware: Security checkpoint lines look longer but waits are not. Due to physical distancing, lines fill up faster as six-foot separations reduce queuing by up to 75%. Lines move faster than they look. Plus, wait times on flight displays and our flySEA App are noted in five-minute increments. Check out TSA's Travel With Ease with PreCheck to shorten any checkpoint wait.
We added close to 300 hand sanitizer stations throughout the terminal for your use.
SEA installed nearly 650 plastic protective barriers that buffer interactions between travelers and airport employees, and 8,000 signs for reminders and spacing to honor physical distancing.
We doubled down on cleaning with frequent disinfection with medical-grade cleaning products. We even secured international accreditations for cleaning practices.
Breathe easy knowing our air filtration and ventilation system constantly circulates fresh, outdoor air through the terminal and uses filters that capture 90% of COVID-19 sized particles.
By the numbers
Current projections expect the number of travelers during spring break to reach the largest levels seen since the beginning of the pandemic.
The busiest days are typically Thursdays, Fridays, and Sundays. This first weekend is projected to see 32,000 outboard travelers through security checkpoints on Friday, March 19 and 30,000 departing travelers through checkpoints on Sunday, March 21. This would equal an overall passenger level through the airport (including departing, arriving, and connecting passengers) of 80,000 and 76,000 respectively. These would approach our highest traffic days since the pandemic, with higher projections expected for the next several weeks. The busiest day to date was during the President's Day holiday on Friday, February 12 with 32,000 outbound travelers going through security checkpoints. Currently, Friday, March 26 is projected to have 33,000 outbound travelers and 82,500 passengers overall.
For comparison, in 2019 SEA Airport averaged 140,000 overall passengers through the airport per day. For more details, see the latest airport activities dashboard update and the year-end summary press release.
What can I do to prepare?
If you're sick, stay home. If you have symptoms, do not travel.
Check travel guidance. Your destination may require a negative COVID-19 test and/or mandatory quarantines for arriving passengers. Check with your airline regarding any rules you need to know for the state or country where you plan to travel.
Mask Up! Face masks are now mandatory by federal law throughout the airport grounds. The Centers for Disease Control and Prevention advises face coverings may slow the spread of the virus. Pack an extra mask in case you need a fresh one along the way, or snag one from an airport retailer.
Wash and sanitize your hands often. Lather for 20 seconds covering the back of your hands, under your fingernails, and between your fingers before rinsing. Don't have time to wash? We have you covered! SEA installed hundreds of hand sanitizing stations throughout the terminal. You can locate all 280 of them on the SEA App.
Wipe down surfaces. Bring disinfecting wipes on your journey and wipe down any common use areas you touch.
Don't touch your face! Refrain from touching your face and putting items like your boarding pass in your mouth.
Keep your distance. Maintain a six-foot distance from others. There are spaces in the airport where this can be a challenge, such as the satellite trains, gate areas, and, of course, the aircraft. If you're uncomfortable, step away from the crowd, or in the instance of satellite trains, wait for the next one to arrive in 2-3 minutes.
Give me the traveler basics
We're focused on the here and now and keeping travelers and the SEA team safe. We are ready for you when you feel good about traveling.
For a more efficient experience, download (or update!) the flySEA App. See checkpoint waits in real-time in 5-minute increments, locate dining and retail to explore, and use the interactive map to navigate the airport.
Look for the SEA Pathfinders in bright green if you have questions in the terminal. You also may DM us and our social care team is happy to help!
Give yourself extra time. Arrive two hours early for domestic flights and three hours for international travel. Even with lower traffic, COVID-19 physical distancing efforts can make transiting through the airport longer than expected.
Park in the airport garage. Consider picking up and dropping off passengers in the airport garage to avoid congestion. Short-term parking is only $5/hour. Pre-Booked Parking is available for a touchless transaction in advance of arrival.
Be ready for security checkpoints. SEA and TSA want to help you move through security checkpoints as quickly as possible. Travelers are required to remove electronics larger than a cell phone from carry-on luggage. Also, remove foods and liquids from your carry-on luggage, prepare to hold up your boarding pass for review, and wear your mask.
Need more travel hacks? Visit the Traveler Tips webpage for our best advice to navigate SEA like a frequent flier.
SEA is adding new services to make travel more accessible and improve the travel experience beyond the Americans with Disabilities Act (ADA) requirements. Check out our new SEA Social Story developed for travelers with sensory sensitivities such as autism, but also great overall tips for kids. Learn more about accessibility at SEA. The interactive map on the flySEA App offers accessible route directions.
Check with the City of SeaTac for any road construction projects that might hinder your access to the airport.
Stay up-to-date
FlyHealthy@SEA will continue to evolve as travelers return to the airport. For more information, please visit: