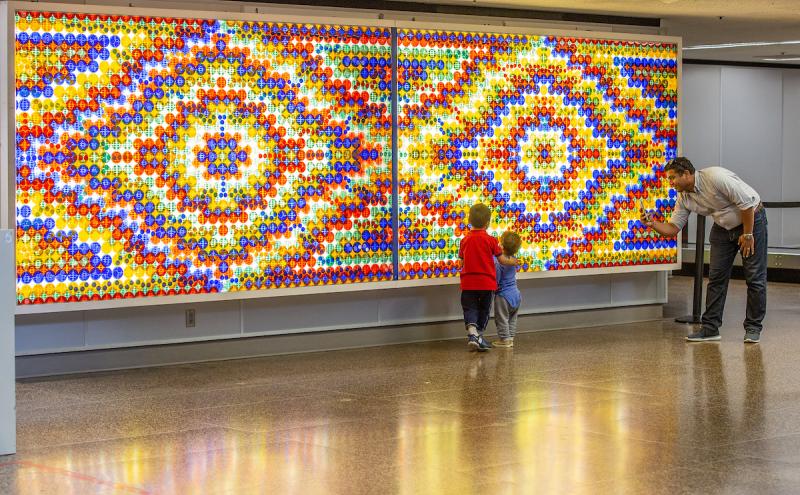 Richard C. Elliott
This piece greets those who travel through the airport. The artwork is lit from the interior and is inspired by Columbia Plateau baskets.
The Details
Artist: Richard C. Elliott
Date: 2005
Medium: Interactive light installation (acrylic safety reflectors on Plexiglas lit from behind)
Dimensions: 6' 3" high x 20' wide
Where is it?
Elliott's piece can be found near Carousel 15 on the Baggage Claim level.
About the Art
Richard Elliott's Eyes on the World welcomes those who travel through the airport with radiant light and color. Three layers of bicycle reflectors are adhered to Plexiglas in a pattern that resembles Columbia Plateau baskets. The double diamond design shines on and gives blessing to all those who use the facility.
"I combine active light medium with two-dimensional geometric designs similar to patterns found from the Arctic Circle to the Amazon jungle. These designs, echoing the patterns within us, have connected people to the living fabric of life since the dawn of time." – Richard C. Elliott
Did you know?
The piece was retitled during fabrication from The Old Inspires the New. Elliott cites the change: "When people at the sign company asked me what it means, I explained that it was inspired from cornhusk baskets from the Plateau Indians along the Columbia. The foreman, who is from Mexico, said they refer to similar double diamond patterns as 'The Eyes of God'."