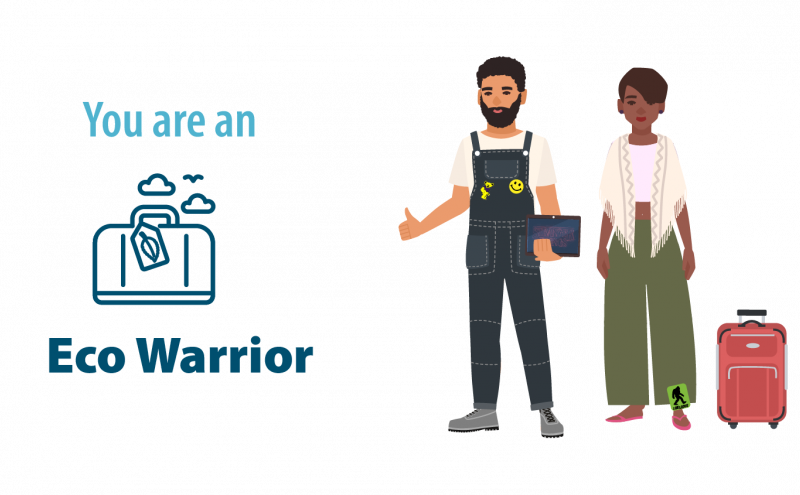 Hey, Eco Warrior! You crave time in nature and are committed to a sustainable lifestyle. Health and wellness is important to you and your mission is to support small and local businesses.
Here's some help planning the eco-friendly trip of your dreams, so grab your hiking boots and reusable water bottle and hit the road.
Before you go
Let's face it. Travel can have a significant environmental footprint, so why not look into offsetting your flight's carbon emissions through the Good Traveler?  Just $2 offsets 1,000 miles and pays for projects that help restore climate balance like growing plants that capture carbon, producing clean wind energy, or capturing the methane from landfills. Bonus tip: Did you know your employer can offset business travel? Every year, the Port of Seattle offsets travel for its employees traveling on business. 
Getting here
Keep your trip to the airport easy on the environment and cost-effective by exploring public transit options. The Link light rail  ride from downtown Seattle to Sea-Tac takes about 40 minutes. You can even stow your bike and luggage in the front of each car to free up space. Once you arrive at the Sea-Tac station, take advantage of the electric cart service between the station and the sky bridge, and stow your organic, sustainably-made luggage on the back of the cart during the ride. Use Sound Transit's Trip Planner to explore transit options throughout Puget Sound. 
At the airport
Want to be a zero waste hero? These security checkpoint travel hacks will have Mother Nature singing your praises.
Opt for a digital boarding pass on your mobile device instead of printing a boarding pass

Check TSA regulations to make sure you aren't bringing any restricted items through security that might end up in a trash bin 

Make sure you empty your water bottle at one of the beverage drain stations at security checkpoints and use the same water bottle throughout your trip 
Take a break before you head to your gate and make time to navigate some of Sea-Tac's great dining and retail options, and amenities that support your sustainably savvy lifestyle.  
Stay hydrated by filling up your water bottle at one of our many filling stations. Download the Sea-Tac App and search for "water refill station" on the interactive map to find the closest one to you.  Find more ways to keep your travel green. 
You're all about being mindful with your spending habits. Supporting small business benefits your local community and the environment, and here at Sea-Tac, you have options. Just because you're traveling doesn't mean you have to compromise your wellness standards. Keep living your best life and head over to the A Concourse and enjoy vegetarian dishes with locally-sourced produce at Floret. Craving a salad, wrap, or grain bowl? Make a stop at Evergreens Salads, located in the Central Terminal and enjoy a healthy, convenient, and delicious meal made with fresh and responsibly-sourced ingredients. Download the Evergreens Salad App to order ahead, skip the line, and earn rewards.
Did you know one-third of the trash generated at the airport is kept out of the landfill through Sea-Tac Airport's waste management program? Help us stay on track by using the recycling and composting options throughout the airport. Bonus tip: Bring your own reusable bag to cut down on waste.
Save time before your flight to take a peek at the local products for sale throughout the airport. Make a stop at Seattle Made, located on the C Concourse which features locally-made products from over 100 Seattle-based producers and manufactures. Suit up for your next outdoor adventure at Ex Officio. Whether you're exploring a tropical rainforest or meandering along a Pacific Northwest trail, you'll find the perfect attire to brave all the elements in comfort and style. 
With one million square feet being built new or renovated at Sea-Tac Airport, we are building sustainably within our existing footprint to make your travel experience more efficient, rewarding, and green. As you fly in and out of Sea-Tac Airport there's a good chance you'll spend time on the Concourse D Annex or the North Satellite Modernization Project. The Concourse D Annex, a LEED (Leadership in Energy and Environmental Design) Silver Certified facility, relieves current congestion for travelers waiting at crowded gates and aircraft waiting on the airfield for an open gate to deplane passengers during peak periods. The facility makes efficient use of time and space, saves greenhouse gas emissions from idling aircraft, and saves airlines fuel. Once the North Satellite is complete in 2021, it will use rainwater collection to supply flushing water to the restrooms and passengers will be able to enjoy a nature-inspired "living wall."  
May your carbon footprint be minimal and your meals organic and locally-sourced on your journey.