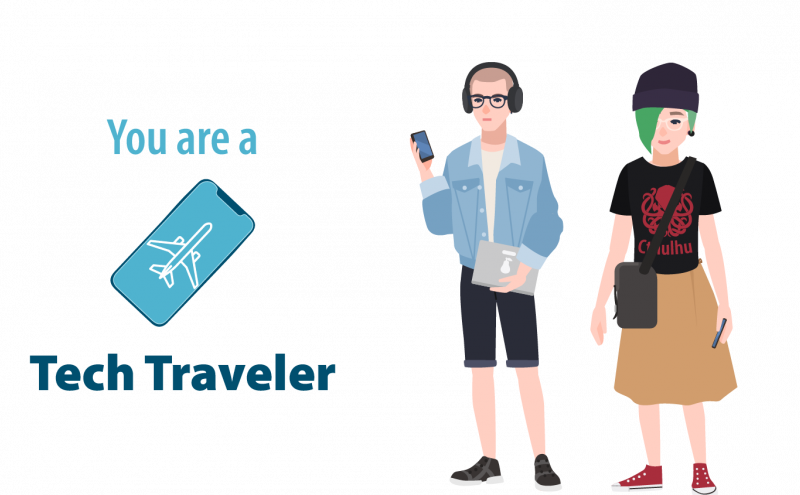 You never leave home without your gadgets and you love technology for the seamless experience and convenience it brings. You also appreciate how it keeps you connected to family and friends. It's not unlike you to geek out on new technology devices, download the latest apps, and find new products that make life and travel a little easier and more fun. 
Gear up and get out the door. With these techie tips, a hassle-free travel experience is just one swipe away.
Before you go
Avoid FOMO (fear of missing out). Stay up-to-date on the latest travel alerts and news coming out of SEA Airport by signing up for our text alerts. To receive text updates, text "Update" to 206-347-8045.
Before you leave the house, equip yourself with handy apps that make getting to, from, and around SEA Airport a breeze. Traveling internationally? Download the U.S Customers and Border Protection Mobile Passport Control App to expedite entry into the United States and help speed you through customs. Using the app, you can complete the form online, save your profile and re-use it for future trips, and use the line designated for Mobile Passport Control users.
The Port of Seattle's SEA Airport App is a gamechanger when you're traveling in and out of SEA. Checkpoint wait times, interactive map, flight information, and a parking space reminder are all one download away. 
Find more apps for when you are hungry and in a hurry at the airport!
Getting here
Catch a ride to Sea-Tac using an app-based rideshare like Uber,  Lyft, or Wingz. On-demand services are convenient for your schedule and can be downloaded on your iOS or Android device.
At the airport
Once your rideshare drops you off at SEA, head to checkpoints #2 or #5 with Automated Screening Lanes with new technology for more efficient processing. Once you've used technology to streamline your security checkpoint experience, maximize your time and keep on living your best life. Skip the lines and take advantage of the mobile ordering options offered by seven SEA eateries. Fuel up on delicious dishes from Evergreens Salad, QDOBA, and Beecher's Handmade Cheese to keep you satisfied while on the go.
Did you forget something? Pick up a spare travel charger, noise cancelling headphones, or luggage tracker at In Motion Entertainment or Hudson Booksellers to stay connected during your travels.
Log into SEA Airport's free WiFi — rated the fastest airport WiFi in North America in 2018 — and surf and stream to your heart's content. Use your favorite apps, send texts and emails, Facetime your family, stream music, or binge the latest Netflix series while you wait for your flight. All the while you'll stay calm and collected knowing that your device can receive a jump start whenever you need it, with charging stations located throughout the airport.
As you walk through the terminal you might just stumble across innovation in action — in this case, robots cleaning the floors. The robots aren't just coming, they are already here and ready to help. One of Sea-Tac's vendors, C&W Services, recently set a fleet of six self-driving floor-care machines in action at the airport. Read more about how Sea-Tac is innovating with robots.
As a techie traveler, you embrace improvements and innovation that make your life easier. At SEA Airport, we are building new and updating a million square feet to provide you with modern spaces that make your travel more efficient. Relax and stay connected in our new Concourse D Annex. Enjoy the natural light and modern feel of the facility, find a charging station, and a comfy chair and connect to WiFi. The new facility relieves current congestion for travelers waiting at crowded gates and aircraft waiting on the airfield for an open gate to deplane passengers during peak periods.
Have a blast and stay connected! Be sure to upload your memories so friends and family can follow along.