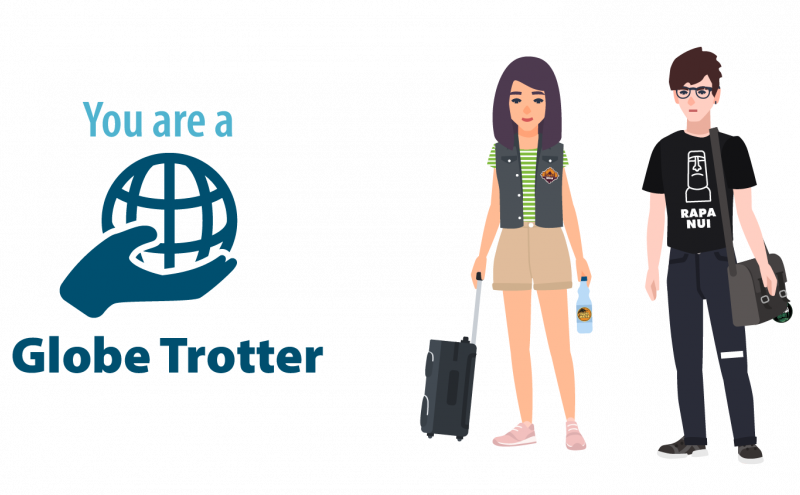 Bonjour, Globe Trotter! You are a world traveler that appreciates the finer things in life and you enjoy discovery and new experiences. You'll try anything once, even if it's outside of your comfort zone. You lead a rich and interesting life and you want to share it with your community.
The following resources will get you to the airport, keep you prepared, and help you discover something new!
Before you go 
Sign up for Trusted Traveler Programs such as TSA Pre✓and  Global Entry to get you through the lines faster. These expedited security programs help for both domestic and international travel, including a faster way through customs with Automated Passport Control and Mobile Passport Control. You will love Global Entry for arriving home in the United States from international destinations. For $100 for a five-year membership, you'll enjoy expedited Customs and Border Protection processing into U.S. following an international flight, and TSA Pre✓ is included for access to expedited security lanes at airports within the U.S. and U.S territories.
Another option is CLEAR, which relies on fingerprints and eye scans for faster passage through security. 
Getting here
Your travel style values everyday luxuries, so we recommend that you take an app-based rideshare such as Uber,Lyft, and Wingz to the airport. The on-demand service is convenient for your schedule, with the added benefit of reducing vehicle emissions. Lyft recently received the Port's Environmental Excellence Award for its creative use of technology to reduce current and future environmental impacts.  
At the airport
Once you breeze through security with your Trusted Traveler Program, your curious self wants to snack, sip, and shop on your way to the gate. There are plenty of Instagram-worthy spots to help you do that. #instagood 
Bambuza Vietnam Kitchen, located between N18 and N19, is owned by a husband-and-wife team who highlight cherished family recipes, locally-sourced ingredients, and vibrant Vietnamese flavors in every dish. The name Bambuza pays homage to the bamboo plant, which represents integrity, stewardship, and community in Vietnamese culture, values that are at the heart of Bambuza's daily operations. 
At the C Gates, travelers can sit and wind down over a glass of wine curated from the Pacific Northwest, as well as the world's best vineyards at Le Grand Comptoir. Pair it with bistro-inspired plates of local cheeses and charcuterie, large tartines, and seasonal salads. 
Don't miss the sophisticated sweets at Lady Yum, located at the beginning of the C Gates. Lady Yum serves delectable macarons with signature flavors like honey lavender, raspberry chardonnay, and espresso fudge alongside mini-bottles of sparkling and local wines and artisanal products. 
Sacred Circle Gift Shop, also located in the A Gates, is owned and operated by United Indians of All Tribes Foundation, and offers authentic, Native-designed items from Northwest Coast and Coast Salish, including jewelry, clothing and accessories, art, glassware, and gifts. CHALO in the C Gates carries products that celebrate the history and iconic symbols Seattle including handbags, pouches, home accessories, and apparel. Treat yourself at Dufry Duty Free with locations throughout the airport from cosmetics and fragrances to liquor. 
Being the cultural savant that you are, you travel all over the world to see amazing art in world-class museums. So, it may be a surprise that there is an amazing collection of public art at Sea-Tac Airport. Download the STQRY app to view SEA Airport's art collection at you stroll through the terminal. 
With one million square feet being built new or renovated at SEA, change is on the horizon. For your international adventures next year, starting in the fall of 2020, you will be welcomed home by the new International Arrivals Facility. This building will significantly improve the arrival process for international passengers by increasing the number of international-capable gates from 12 to 20, doubling capacity to 2,600 passengers per hour, and reducing the passenger connection time from 90 to 75 minutes. 
Wishing you happy travels this summer. Bon voyage!