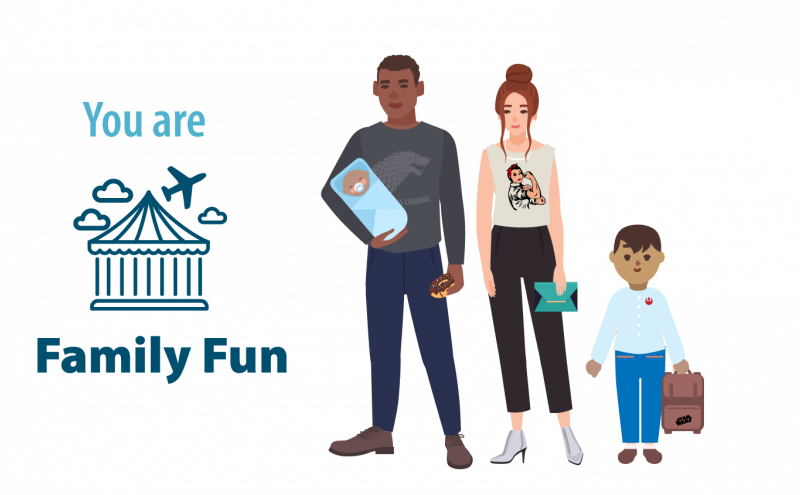 You are the finder of fun for you and yours — a parent who seeks out child-friendly dining, entertainment, and spaces. You look for conveniences to simplify your often-hectic travel experience. And always on the lookout for a good time, a good deal, and moments for yourself. 
With this guide to summer travel at SEA, you can keep the kids happy and fed while sharing resources to be a #coolmom. Can the kid's menu be paired with a glass of red wine? We think so. 
Before you go
Our website rounds up some of our best amenities for traveling with kids. Dig into the TSA guidelines for security screening of children so your family is prepared. 
Getting here
It's pretty much impossible not to overpack when traveling as a family, so driving to the airport is probably easiest. Download the SEA Airport App for the handy parking spot reminder feature. Snap a photo of your parking spot to skip post-flight wandering! 
At the airport 
We reopened the south side of the Central Terminal this spring as the first phase in a renovation project that is dramatically changing the heart of the airport. The kids will enjoy spotting airplanes coming and going via the iconic glass wall. Keep working on your dad bod at one of  five amazing counter-service eateries, including Lucky Louie Fish Shack™, Evergreens Salad, Pallino Pastaria, Pei Wei Asian Kitchen, and Koi Shi Sushi Bento. The nearly $17 million renovation will be complete by summer 2020. 
Starbucks Evenings, also in Central Terminal, offers all the core beverage offerings of Starbucks as well as a local selection of 27 beer and wine options and multiple small plates. Did we mention the beer and wine? 
We have free Wi-Fi and new furniture with charging stations in Central Terminal to keep your devices powered and kids entertained. There are live music performances seven days a week at locations throughout the terminal to serenade travelers. Kids love the live music whether it's blues and pop or folk songs. Local artists are often playing in Central Terminal and in front of the Children's Play Area between Central Terminal and A Gates. The playroom is free, open 24/7, and gives kids activities the get the wiggles out. 
We have six nursing suites to help simplify travel for moms. Search for "nursing suites" in the SEA Airport App to locate the closest one. 
Seattle Hats, just a little south past the Children's Play Area, has the cutest darned collection of crocheted animals and fruit hats, dolls, and accessories for children along with kids' bonnets and clothing. Planewear on Concourse B has functional apparel for kids, women, and men along with aviation inspired accessories, books, collectibles, toys, and gifts. 
Just like your kids, Sea-Tac Airport is growing up really fast. With more than $3.7 billion in capital development underway, passengers will see something new at Sea-Tac Airport every 90 days. Major ongoing projects that make travel more efficient, expand passenger space, and offer new amenities include the North Satellite Modernization, International Arrivals Facility, Central Terminal Renovation Project, and the Baggage System Upgrade. 
Traveling with kids may not be perfect, but it is a joy. We hope your summer travel is free of meltdowns, and full of happy family memories.