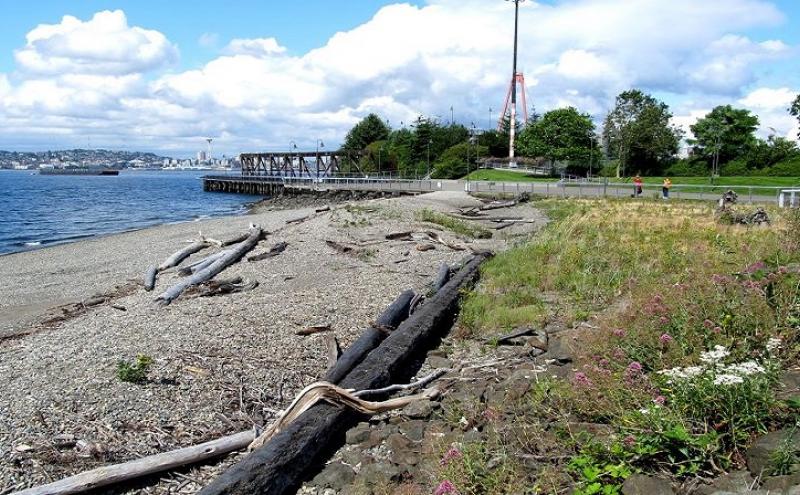 Latitude, Longitude

47° 35' 4" N, 122° 22' 30" W
December 18, 2020 Update:
Out of an abundance of caution, the Port of Seattle is closing the pier at Jack Block Park starting this afternoon.  Deficiencies in the pier were noted in a recent engineering assessment, and further evaluation will be made next week for the repairs necessary to reopen the pier as soon as possible.  The rest of the park will remain open during this time.
Jack Block Park is a 15-acre park in the West Seattle neighborhood. Situated on the northwest corner of the Port of Seattle's Terminal 5.
The site of the park was previously occupied by a wood treatment plant and a shipbuilding facility. The area was eventually contaminated with creosote and designated a Superfund site by the U.S. Environmental Protection Agency in 1994. Originally named Terminal 5 Park, the park opened in 1998 as part of the Port of Seattle's redevelopment of Terminal 5 and was dedicated and named after former Port Commissioner Jack Block in 2001.
After an environmental cleanup effort that included the removal of contaminated mud and wood pilings as well as the capping of 58 acres (23 ha) of sediment, the park's beach opened to the public in 2011.
The park features a walking path along the shoreline, which passes by a play area and a walkable pier before terminating at the park's observation tower. The tower overlooks Elliott Bay and downtown Seattle, and also offers a view of port operations at Terminal 5 and Vigor Shipyards. Interpretive plaques at the tower provide a summary of activities at the Port of Seattle and an overview of maritime shipping technology
Park Features:
15 acre park with walking path
Public beach access
Walking Pier
45-foot high Observation Tower
Children's Play Area
View of Terminal 5 operations, Seattle Skyline, Mt. Rainier
Benches, restroom and parking
Hours: dawn to dusk
Maintenance alert: the Walking Pier at Jack Block Park is partially closed for repairs. It has a 20-person load restriction until further repairs are made. Please adhere to all construction signage for safety.