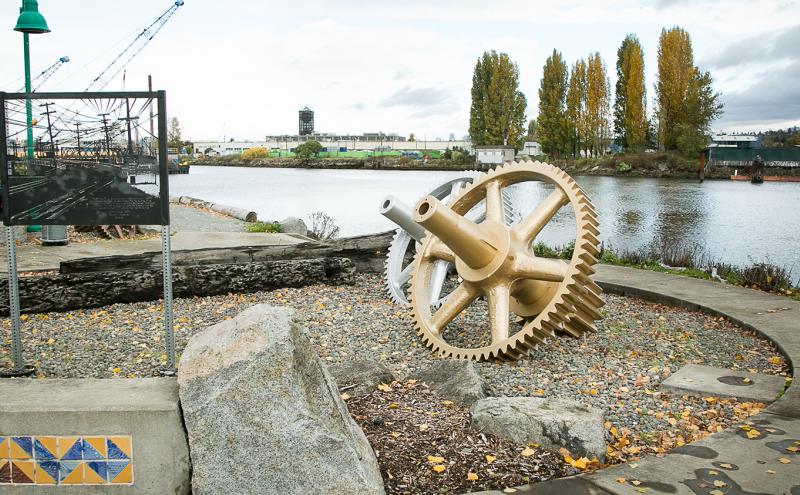 Map & Directions

Latitude, Longitude

47320° 0' 0" N, 122192° 0' 0" E

General Information

The 17,500 square-foot t̓ałt̓ałucid Park and Shoreline Habitat, formerly 8th Ave. South Park, was once the site of a swing bridge that connected South Park and Georgetown. Now a favorite lunch spot for local workers and residents, visitors to the park can watch industrial vessels like barges and tugboats float by as well as observe waterfowl and other wildlife. Tribal fishers exercise their Treaty rights nearby and harvest adult returning salmon in this area.
t̓ałt̓ałucid Park and Shoreline Habitat
t̓ałt̓ałucid (t-ahth-t-ahth-oots-eed) is a description of logs or branches located above a path or trail. Spoken by Warren King Geoge, historian for the Muckleshoot Indian Tribe. 
Formerly: 8th Ave South Street End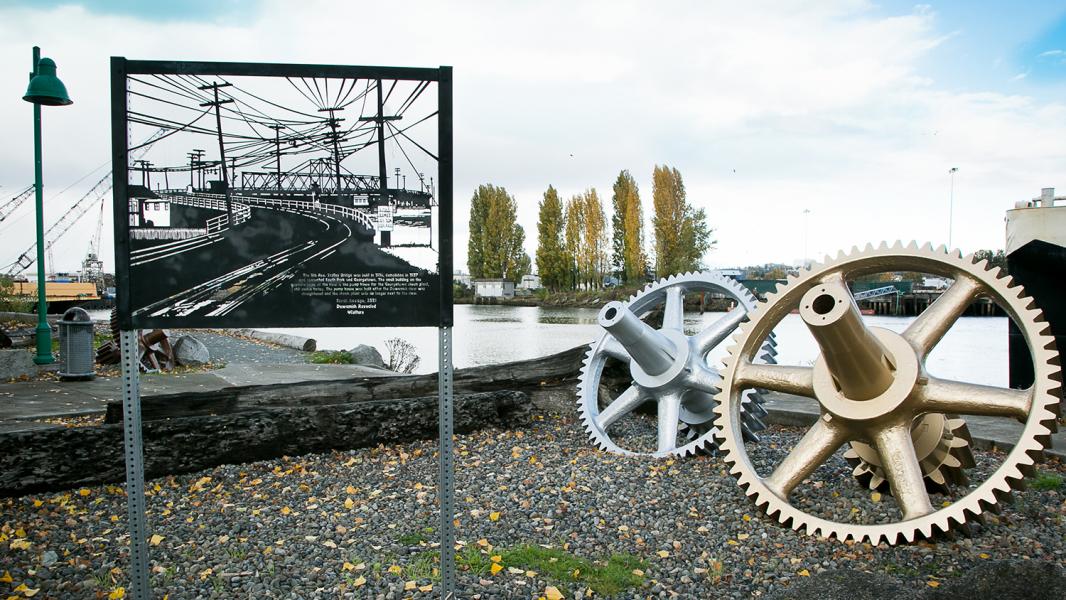 Coast Salish uses and history.
This park is on the ancestral site of the Indigenous water-related place landmark, t̓ałt̓ałucid (t-ahth-t-ahth-oots-eed) "Where There is Something Overhead Across the Path," referring to a place where there were tree trunks and dead timber. Coast Salish people sustainably managed habitats along the Duwamish River and harvested food, materials, and medicinal ingredients from hundreds of plants and animals in the area. This site was once the south bank of a tightly meandering river channel. People in extraordinary cedar canoes would travel up and down the river past this site. Directly south was a mythological place, ʔəč̓qsačiʔ (ech-KSA-chee ) "Fingers Pulled," where the Transformer turned two men who had been fighting into trees. This area was likely near a large flat in a bend in the river's estuary.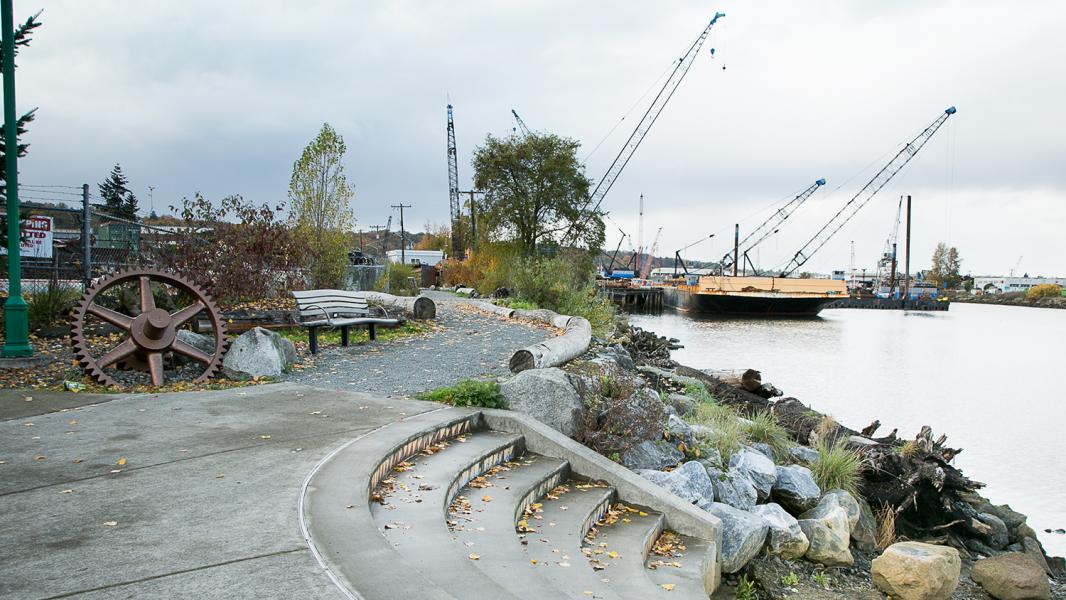 Settler uses and history
In 1851, American and European immigrants to this area established the first non-native settlement in the Duwamish Valley. The Duwamish River was straightened and deepened as the city grew to facilitate a growing economy and maritime industry. From 1915 until 1931, a wooden swing bridge operated here that connected the communities of South Park and Georgetown along 8th Avenue. This route provided a continuous link to the city, allowing horse-carriage transport of South Park farm produce from Italian and Japanese farmers to Pike Place Market. The bridge later supported a streetcar trolley service but was eventually demolished (1938), and a bridge for motor vehicles was constructed further south, where the South Park Bridge is today.
Industrial uses and history
During the 1940s to 1970s, this area experienced significant industrial and residential growth due to Boeing's increased operations across the river and other riverfront industries moving in. This transformation is also linked to the community's experience with discriminatory practices such as redlining, based on racial and socioeconomic prejudices, that discouraged local government investment in essential public infrastructure. These factors and industrial changes along the filled-in area of the Duwamish River led to the transformation of South Park and Georgetown from rural farming communities to urban, hybrid neighborhoods with industrial facilities. These changes contributed to adverse effects on air, water, and other environmental issues still impacting the community today. In addition, during the Second World War, residents with Japanese heritage from the Duwamish Valley were tragically displaced and sent to internment camps, further transforming the cultural makeup of the community and the local economy.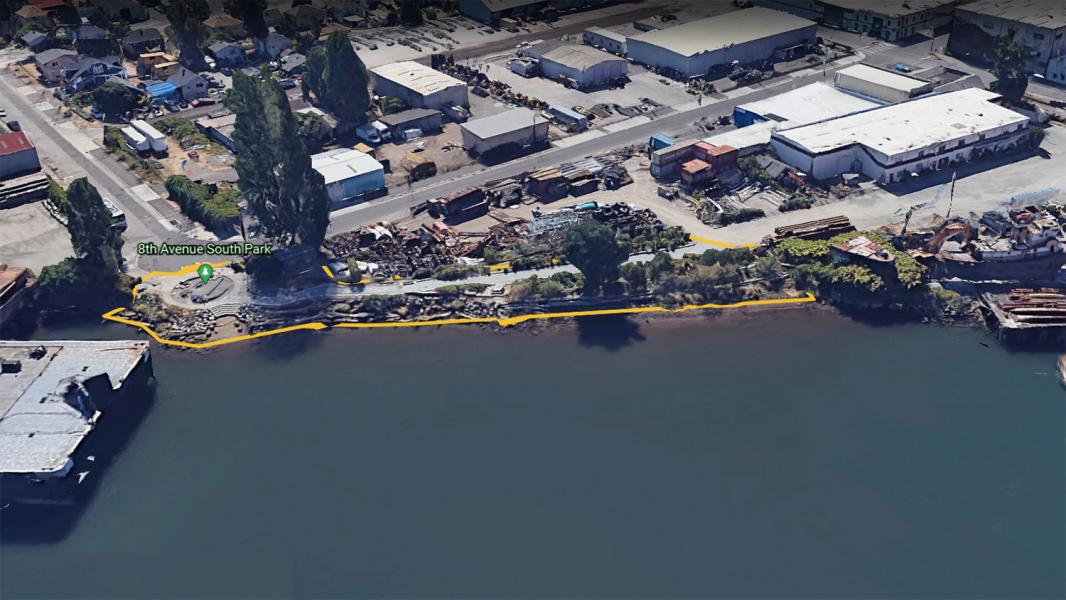 Conservation uses and history
In 1985, the Port prepared the Comprehensive Public Access Plan, which identified public shoreline access and environmental restoration opportunities for the Port to implement, coincident with new marine cargo terminal development. This site was identified in the 1985 plan and was made possible by Port development in the East Waterway. The Port completed the park and habitat area you see today in 2007 to offset the effects of marine industrial development in southeast Elliott Bay, nearly 3.5 miles downstream. The formerly unstable, rubble-filled bank line was reshaped and stabilized using native vegetation, anchored large wood, and rock terraces. These features now provide a marsh habitat that offers shelter and food for migratory fish and birds.
Community uses and history
In recent years, Port of Seattle interns and Duwamish Valley Youth Corps actively participate in the stewardship of shoreline public access and environmental features at the site. They gain green job skill sets by planting trees and native shrubs, learning plant identification, and removing invasive weeds to promote healthy salmon habitat at the park.
Across the river, you can see the historic Georgetown Steam Plant Pump House. For over twenty years, neighbors, including the Georgetown Open Space Committee, advocated for its designation as a historic landmark. The community was successful in December 2019 when the City of Seattle officially granted the Pump House structure landmark status.  
Lushootseed is a Coast Salish Indigenous language spoken by many tribal communities in the Puget Sound region. The Duwamish River area has ancestrally been, and still is, a very active cultural area for Indigenous peoples from many backgrounds. This area is also one of the city's most ethnically and linguistically diverse. Many immigrant and refugee communities are residents or are culturally connected to the area, especially Latinx, East Africans, Southeast Asians, and Pacific Islanders.
Public shoreline access features
17,500 square foot park
200+ feet of shoreline access
A gravel walkway
Hand-carried boat launch via concrete steps into the river
Seating, picnic tables, and lighting
Large metal gears paying homage to the site's community bridge history
Duwamish Revealed Arts Festival public art installation
South Park youth-designed ceramic tiles public art installation
Salmon-Safe Certified Park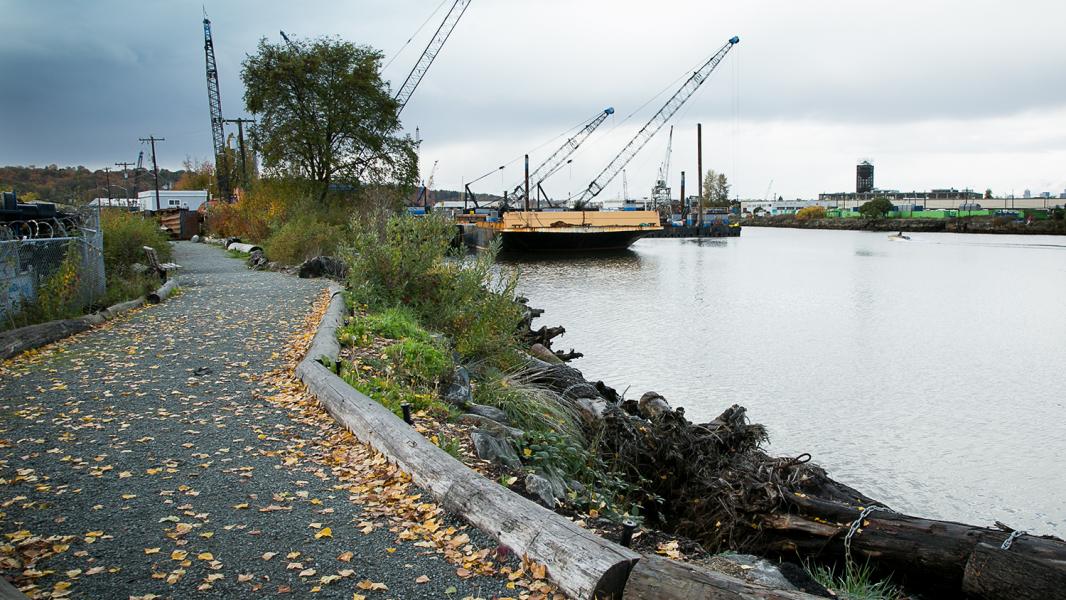 ---
Sources     
Blomberg, G. (2020). Sr. Environmental Program Manager, Port of Seattle. (G. Lee, Interviewer) Seattle.  
Buerge, D. M. (2020). Historian and Author, "Chief Seattle and the Town That Took His Name: The Change of Worlds for the Native People and Settlers on Puget Sound". (G. Lee, Interviewer) Seattle.  
Burke Museum of Natural History and Culture, et al. (2014). The Waterlines Map. Seattle.  
Cano, M. A. (2020). Community Engagement and Communications Specialist, Duwamish River Cleanup Coalition. (G. Lee, Interviewer)  
Densho Digital Respository. (2016, January 20). Misa Taketa Interview Segment 5. San Jose, California. Retrieved from https://ddr.densho.org/interviews/ddr-densho-1000-436-5/  
Hilbert, V., et al. (2001). Puget Sound Geography: Original Manuscript from T.T. Waterman. Federal Way: Lutshootseed Press.  
Lewarch, D. (2020). Tribal Historic Preservation Officer, Suquamish Tribe. (C. Billingsley, Interviewer)  
Medina, R. M. (2020). Friends of Georgetown History, Board President. (G. Lee, Interviewer)  
Seattle Parks Foundation, et al. (2014, June). South Park Green Space Vision Plan. Seattle, WA. Retrieved from www.seattle.gov/documents/Departments/Environment/EnvironmentalEquity/S….  
The Seattle Civil Rights & Labor History Project at the University of Washington. (2020). Retrieved from https://depts.washington.edu/civilr/segregated.htm  
Waterman, T. (1922). The Geographical Names Used by the Indians of the Pacific Coast. The Geographical Review, pp. 12:175-194.  
Wilma, D. (2016, February 16). Seattle Neighborhoods: South Park — Thumbnail History. Retrieved from HistoryLink: https://www.historylink.org/File/2985