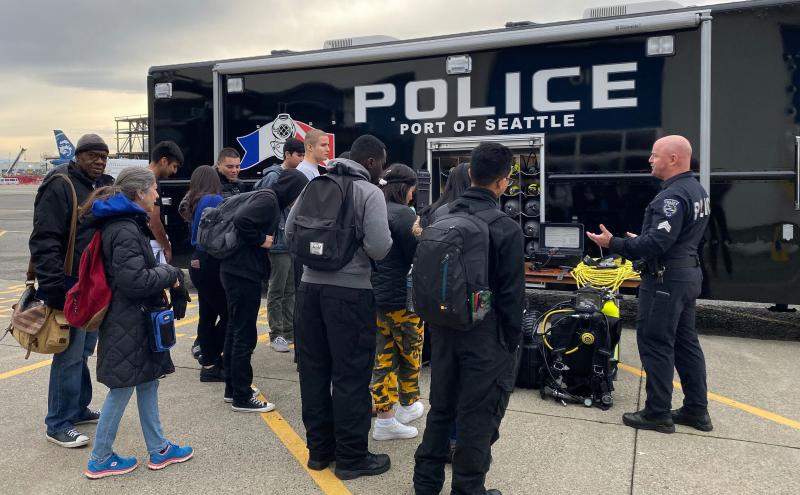 Jul 14, 2020
Today, the Port Commission stood by its values and voted unanimously to adopt a motion to establish a Commission Task Force on Port Policing and Civil Rights that will lead a comprehensive assessment of the Port's Police Department to ensure alignment with the highest national standards and best practices related to policing. 
This is in direct response to what we are witnessing across our nation as thousands of Americans continue to protest the unjust deaths of George Floyd, Breonna Taylor, Manuel Ellis, Rayshard Brooks, Ahmaud Arbery, and many other Black Americans who have died at the hands of police. It reflects a deeply disturbing pattern of systemic racism in our country that continues to severely impact our cities, communities, and essential institutions. 
Americans are demanding immediate action for social change and an end to racism in policing and beyond. That includes our Port employees who were also asking the Port to be part of the change. The Port of Seattle has the responsibility during this critical moment in history to ensure that our Police Department is held to the highest nationwide standards achievable for public safety, protection of civil rights, equity, accountability, and oversight. 
The Port Commission didn't pass this motion in reaction to a specific issue or incident with our Port Police, but we want to double down and ensure our Police Department continues to uphold the Port's values of equity, diversity, and inclusion and improve in areas where we can. We have 116 dedicated police officers and 40 civilians who support them. All of them want to do the right thing. All of them want to serve our community well. 
Our Executive Director Steve Metruck has already taken swift action that includes an outright ban on chokeholds and today's vote moves us forward. We will deep dive into our policies and practices to see where there are opportunities for improvement and if our policies and practices are disproportionately impacting our Black community. 
Special thanks to the members of the Port's Blacks in Government (BIG) who have been leading focus groups and discussions on this topic so that we can gather input, ideas, and perspectives that informed our motion and made a significant difference.   
I firmly believe the work of the Task Force will broadly benefit the Port, the Port Police, the communities we serve, and users of Port facilities. The Port must lead by example by acting swiftly and meaningfully in identifying and implementing Task Force recommendations. We have a lot of work to do and I look forward to hearing the first progress report in October.