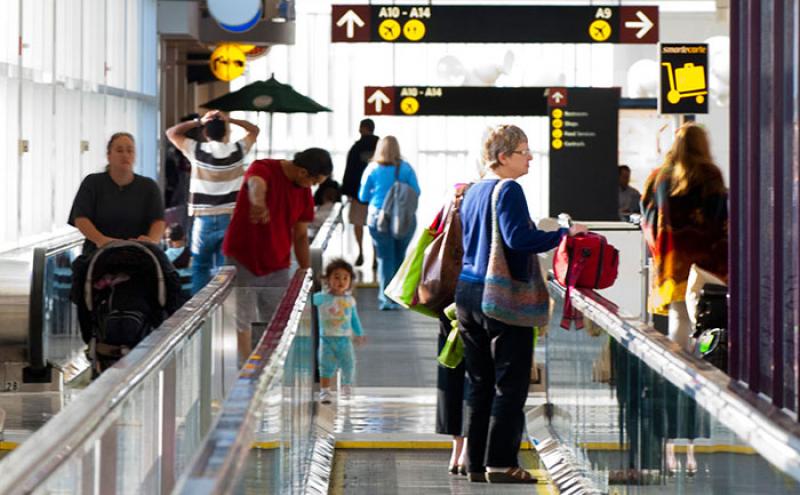 Busiest days, traffic and parking tips, and airport amenities and programs to help make your trip more enjoyable


May 21, 2015
Seattle-Tacoma International Airport's busiest time of the year, the summer travel season, kicks into high gear this Memorial Day holiday weekend. Travelers can expect over half a million passengers to pass through Sea-Tac Airport during the five-day period Thursday, May 21 through Monday, May 25. The busiest day of the holiday weekend is projected to be Friday, May 22 with about 120,000 travelers.
Through April of this year, Sea-Tac Airport has seen nearly three times the projected number of passengers, with a 13 percent overall increase and 16 percent jump of international passengers. This comes after a record setting 2014 where Sea-Tac handled nearly 37.5 million passengers.
We recommend individuals give themselves plenty of time and plan ahead accordingly. Included below are additional passenger traffic numbers, travel and parking tips, and a comprehensive list of various passenger amenities and programs available throughout the airport.
Holiday Passenger Traffic Numbers:
Top Three Busiest Days of the Memorial Day Holiday weekend:
Friday, May 22: 120,000 projected passengers going through the airport (inbound and outbound)

This is nearly 20,000 more passengers than the highest day of the 2014 holiday weekend, (Friday, May 23: 100,000)

Thursday, May 21: 117,000
Monday, May 25: 103,000
More Summer Months Passenger Traffic Statistics:
Sea-Tac's peak travel period is the summer season, June – August
August is traditionally the busiest month followed by July, June and May (December is 7th, November is 10th).
August of 2014, Sea-Tac had 12 days with over 120,000 passengers
The busiest day of 2014 was August 14 with 125,000 travelers, followed by June 20 with 124,000
In 2014, a record 37.4 million passengers traveled through Sea-Tac compared to 34.7 million passengers in 2013. For the first time, Sea-Tac averaged about 100,000 travelers per day.
General Travel Tips:
Check out our helpful travel tips video here.
Sea-Tac travelers can also find updated information via the following travel tips link
Use Mobile Apps technology to your advantage. Nowadays most airlines offer mobile apps. Apps offer features such as electronic boarding passes, flight status updates, online check in, airline services, account information, and more.
Plan Ahead – Confirm your travel details and make sure the name on your boarding pass and your government-issued ID match.
Pack with Security in Mind – Know what is and isn't allowed in carry-ons and checked luggage by checking the TSA website. If you qualify, you can apply for the TSA's PreCheck program to help speed your security and check in process
Get your Boarding Pass Early – Print your boarding pass before you arrive. Or use convenient check-in kiosks located throughout the airport garage or at airline check-in counters.
Checked vs. Carry-on Baggage - Passengers with only carry-on baggage can go directly to the security checkpoint. Passengers with luggage must go to airline bag-check points. Often overlooked, but a helpful detail, remember if you choose to place a lock on your luggage make sure it is a pre-approved TSA lock available for purchase at most travel stores or retailers within the airport.
Check the status of your flight online or via email notification – Check our flight status page for updates online or through email alerts.
Arrive at least two hours before your flight (for domestic) and three hours for international travel – give yourself time to get through security.
International Travelers:
New- Download the U.S. Customs and Border Protection Mobile Passport Control App to expedite entry into the United States and help speed you through Customs.
Sign-up for Global Entry - frequent international travelers can significantly speed up their clearance process through U.S. Customs and Border Protection by enrolling in Global Entry. This is an expedited clearance for pre-approved, low-risk travelers upon arrival in the United States. A five-year membership is only $100. Visit the Global Entry website for more information.
International travelers can take advantage of numerous Automated Passport Control and Global Entry kiosks.
Parking at Sea-Tac:
Park in the Airport Garage – Save time, stay dry and be close. No shuttles needed and covered skybridges take you directly into the terminal.
Parking Coupons – Discount parking coupons are available via our website here. The general parking coupon offers a rate of $20 a day or $105 a week, and is valid now through June 30, 2015. Please keep in mind, prices include all taxes and there are no added charges or fees.
Tips for Avoiding Congestion on the Airport Departures and Arrivals Drives:
THINK OPPOSITE! Pickup on the departure drive, drop-off on the arrivals drive – If traffic is congested, look for the opposite airport drive for relief. Try meeting your arriving guests one level up from baggage claim at the less-crowded departure drive. Those with only carry-ons can go straight out the ticketing level. For drop-offs, reverse it. Go to the arrivals drive and travelers only have to go up one level to ticketing. Remember, the busiest periods are mornings for departures and evenings for arrivals.
Don't get stuck in traffic! – Park on the Terminal Direct floor of the airport parking garage, the quickest and most convenient option for meeting passengers in the terminal, and pay just $4 per hour. Or use any other floor for $3 per hour.
Try the cell phone waiting lot – Our cellphone lot is located just south of S. 170th Street exit from the Airport Expressway. The lot has a capacity of 200 spaces specifically designed for easier circulation, along with better lighting, and free WiFi. Parking is free as long as drivers remain in their vehicle and can wait up to 30 minutes. Take advantage of the posted QR code to scan for the most recent flight arrival information. (Remember, there is no parking or waiting allowed on the airport roadway shoulders).
Amenities and Programs at Sea-Tac to Help Make Your Trip Relaxing and Enjoyable:
Stay Connected (and keep your vehicle charged too!) – Sea-Tac was named one of Fodor Travel's 10 Most high Tech Airports in the U.S. Free and fast WiFi. Plus we have more than 2,415 outlets throughout our concourses and gate holding areas. As for your vehicle, we now have 48 electrical vehicle charging stations throughout our garage. The largest number of statins of any North American Airport.
Bicycle Travelers – Enjoy our new Bicycle Assembly/Disassembly Stations. Includes tools and bike pump. (Located on baggage level between carousels 12 & 13). Additional amenities include new bike racks, short and long term storage options and updated bicycle resources webpage.
Lounges & Relaxation – In April Sea-Tac welcomed the debut of The Club at SEA. Lounges are open to all passengers for a fee of $35. Located within Concourse A and South Satellite.
Music – Enjoy the "Best Arrivals Experience" honored by the Future Travel Experience Awards recognizing Sea-Tac Airport's Experience the City of Music program. Check online for a schedule of live northwest musicians entertaining in various locations and get more details about this unique showcase of the region's music culture, including DOUBLE the amount of musicians and play times.
Art Walk – Take the Sea-Tac Airport Art Walk for a little exercise and education in public art. The free, self-guided tour takes you ½ mile (one way) through more than 16 permanent art installations and rotating temporary exhibits. QR codes guide your way and provide artistic information.
Stay Hydrated – Water lovers rejoice! You can take it with you -- by using the liquid drains at the checkpoints, take your favorite bottle through security, and then load up with four new bottle re-fill stations. Find them near gates A-2, A-5, D-1 and in the middle of the central terminal food court.
Self-bag tagging – now available in a common use kiosk for Hawaiian Airlines right across from the international ticket counters. Get your boarding pass and your bag tag on your own!
Questions? Lost? – Pathfinders, dressed in teal and airport volunteers in blue, are available seven days a week throughout the terminal using iPads to help travelers with quick information.
Don't forget other amenities to enjoy your trip – rocking chairs in central terminal, the salmon walk on concourse B, a kids play area where concourse B and A come together, and talking water fountains. See more under Passengers Services.
More green projects have taken off – you can see them right outside the window of the gates. Centralized Pre-Conditioned Air and Electric Ground Support Equipment will save millions of dollars and thousands of tons of greenhouse gasses. Learn more on our projects page.
Lastly, please excuse our dust (at least on the airfield) – If you hadn't noticed, our center runway is in the midst of a complete reconstruction. Fret not, we do not anticipate delayed or impacted passenger services/flights as a result of the construction.
Earn Airline Miles When You Dine or Shop:
Sea-Tac Airport partners with the Thanks Again loyalty program and offers airline miles for every dollar spent at all participating Sea-Tac Merchants. Every latte, magazine, gift, or massage, earns you more miles toward your next flight! Registration and enrollment in the program is free which you can do online at www.seatacshops.com.
About Seattle-Tacoma International Airport
Operated by the Port of Seattle, Seattle-Tacoma International Airport (SEA, KSEA) is ranked as the 13th busiest U.S. airport, serving nearly 37.5 million passengers and more than 319,000 metric tons of air cargo in 2014. With a regional economic impact of more than $16.3 billion in business revenue, Sea-Tac generates 171,796 jobs (109,924 direct jobs) representing over $2.8 billion in direct earnings and more than $565 million in state and local taxes. Twenty-five airlines serve 78 non-stop domestic and 21 international destinations.