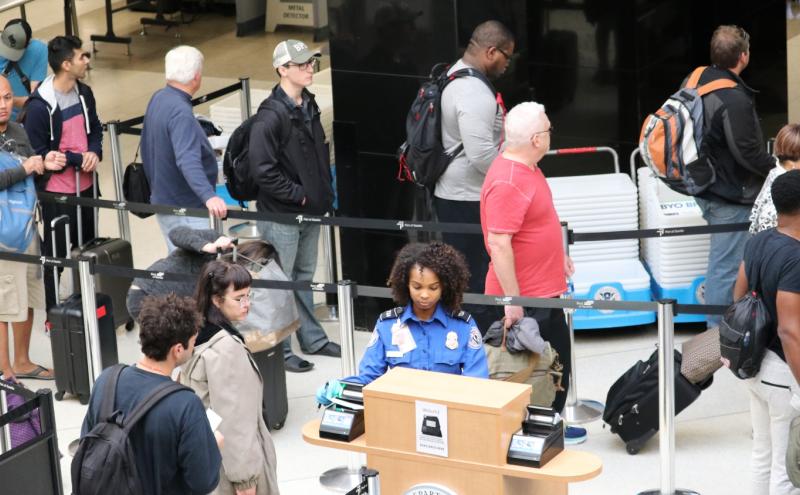 Think ahead, try something new, and be flexible with congestion
August 25, 2023
The end of summer travel is arriving with large volumes expected to move through Seattle-Tacoma International Airport (SEA) over the Labor Day weekend. Travelers can get ready with advance planning, trying new tech, and being flexible as they move through the airport. Already this summer, SEA has seen over 500,000 (+3%) more travelers than expected.
By the numbers
Passenger levels for the Labor Day period are expected to be at pre-pandemic levels. Volume at SEA will be about 18 percent higher than Labor Day 2022.
The busiest days are expected to be Monday, September 4, with 190,000 travelers overall through the airport (departing, arriving, and connecting), followed by Friday, September 1 (185,000), and Sunday, September 2 (177,000).
Summer travel has been higher than expected at SEA with July volumes 14.6% higher than July 2022. For the year through July, 29 million passengers have passed through SEA, 13.8% more than 2022 and only -1.9% from 2019.
Projections now see 2023 overall passenger volumes nearly equal to 2019. In addition, 2024 volumes are now projected to be up 3% from 2019, which would break the all-time annual record of 51.8 million passengers set that year. Dig in more on our Statistics page.
What are my best tips to try?
Reduce your stress by avoiding congestion on the drives, use technology to avoid lines, enroll in a Trusted Traveler program, and check out SEA Airport Travel Tips, including these:
The FREE SEA Spot Saver service is on the top of the list. For general checkpoint users, sign up online for a 15-minute virtual spot in line to shorten your wait for up to 10 travelers. You can sign up as early as five days before or when you arrive at the airport. Make sure to check with your airline to see if you qualify for premium screening, available at TSA Checkpoints 2, 3, and 5!
Check out the flySEA app for your latest updates and be ready to travel! Fifteen new dining and retail spaces have opened throughout SEA in the last 18 months!
Monitor social media and SEA text messaging to stay on top of construction projects underway to avoid delays on the drives and getting from the garage to the terminal. And track projects with Upgrade SEA.  
Watch the drive cams and avoid picking up/dropping off during the busiest traffic periods (6:00–8:00 a.m. and 6:00–8:00 p.m.). Treat your friends and family to a taxi or Ride App Pick Up or use Sound Transit's Link Light Rail, limos, shuttles, or other alternative modes of transportation.
The airport garage will be busy. If parking is your only option, plan on an extra 45–60 minutes to find a spot, and use the Automated Parking Guidance System to find a spot faster! Avoid car prowls by locking your car, don't leave valuables in sight, keep your luggage and belongings close at all times, go straight to baggage claim after arrival, be aware of your surroundings, and call 911 if you see any suspicious activity.
Check out our travel tips for more suggestions and ideas before and after you get to SEA.
What are the busiest times?
These tips should help any traveler, but those with early flights should take the most care. Typically, more than one-third of our daily volume arrives at the airport before 9:00 a.m. Travelers heading out before 10 a.m. should be prepared for very busy conditions at TSA security and on the drives. In addition, busy times will also be seen 2-5 p.m. and 9–11 p.m., especially on the drives where a majority of arrivals occur. Use the tips below to skip the line.
More ways to skip the lines
We're upgrading SEA
What's the best advice for travelers?
Give me the traveler basics
Contact
Perry Cooper | Port of Seattle Senior Media Officer
(206) 787-4923 | cooper.p@portseattle.org