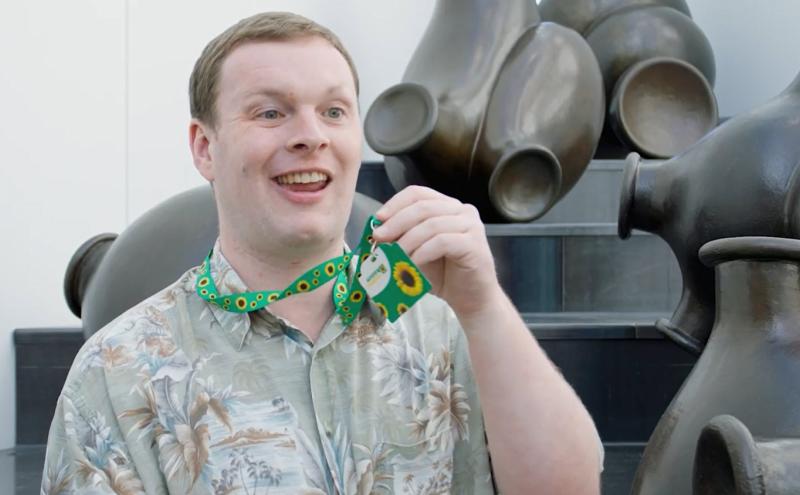 November 15, 2023
Seattle-Tacoma International Airport (SEA Airport) yesterday announced the launch of SEA Access, the new name for the airport's accessibility program. The announcement launched in coordination with a Port of Seattle Commission Order to commit SEA Airport to becoming one of the nation's most accessible airports through its operations and upcoming capital construction projects. The program includes a new video showcasing the variety of accessibility services from curb to gate at SEA.
SEA Access is an interdepartmental collaboration that supports the accessibility needs of customers and workers at SEA Airport through accessible facilities, customer service resources, and community engagement. Its goal is to create a safe, welcoming, and easy travel experience for all. This builds on work that began in 2019, when SEA became the first airport in the United States to launch the sunflower lanyard program for travelers with invisible disabilities.
"SEA Airport is a leader in accessibility options for travelers, and the launch of SEA Access reaffirms our commitment to operating the most accessible airport in the United States," said Port of Seattle Commissioner Hamdi Mohamed. "The commitment is visible in our upcoming capital projects to bring more accessible options from curb to gate. This includes more sensory rooms, nursing rooms and suites, service animal relief areas, and more. Finally, SEA is committed to a 'nothing about us without us' approach through the SEA Accessibility Advisory Committee of disability community and airport stakeholders to consistently elevate our accessibility options."
Upgrade SEA – Accessible facility updates
SEA Airport is currently in the midst of Upgrade SEA, an investment of around $1 billion per year for the next five years, to update and upgrade its facilities to give passengers more of what they need and love, including accessibility support. This includes:
Zero-grade curb and ramps – In 2023, the Arrivals Drive curb was redesigned to be zero-grade so guests could have step-free access from the curb to their vehicles. On the Departures Drive, wheelchair loading zones were created every 100 feet to provide more accessible spots to access the curbside. Also, new ramps are being constructed between Baggage Claim and the Arrivals Drive to provide a shallower slope with landings at the top and bottom.
Restroom upgrades – SEA Airport opened its first all-gender restroom on the D Concourse in 2023 to allow people of all identities, abilities, and circumstances to have access to a common restroom. This also provides additional options for people with disabilities to stay with their caregiver or family member, regardless of gender identity. Upcoming restroom upgrades will also add additional family restrooms and restroom facilities with both baby and adult changing tables.
Accessible facilities for all – SEA currently offers a sensory room, service animal relief areas, and nursing rooms and suites. Upcoming capital projects, including the C Concourse Expansion, will add additional amenities throughout the airport.
SEA Access today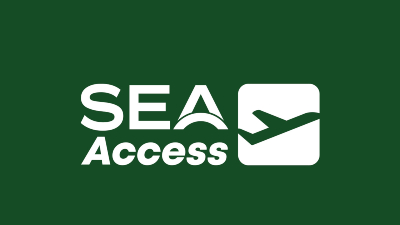 Travelers today have many options to help meet their accessibility needs and can plan their journey through the airport using our SEA Access webpage. Specifically, travelers can:
Disability community engagement
A cornerstone of the SEA Access program is disability community engagement through the SEA Accessibility Advisory Committee. Featuring a cross section of disability community members, airline partners, and Port of Seattle staff, the committee provides a platform for advice on how SEA can continually improve accessibility for all. Port of Seattle staff also meet regularly with disability community members and staff of disability organizations, and are involved with the Transportation Security Administration (TSA) Disability Working Group and the WA Community of Practice for ADA Coordinators.
Travelers can stay updated on the latest accessibility features and SEA Airport news through the airport's website and the FlySEA app or by signing up for the FlySEA newsletter.
Contact
Perry Cooper | SEA Airport
(206) 787-4923 | cooper.p@portseattle.org