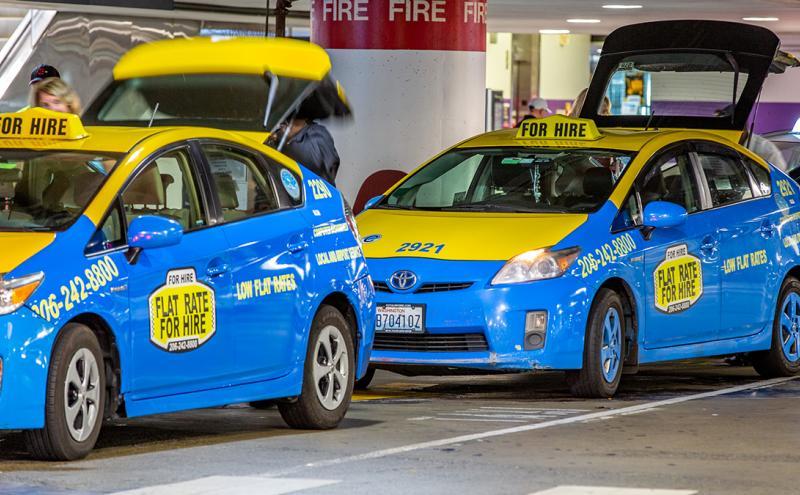 Taxi Program Updates
The 2023 Taxi Agreement for the Taxi On-Demand Program begins as of August 1, 2023 and the Taxi Program will be fully out of the pilot phase to continue on as a fully operational program with the Port of Seattle!
2023 Agreement Renewal documents include: Insurance, Vehicle Ownership Information Sheet, Operator contact information sheet, Medallion information, Authorized drivers for Operating Vehicles, Evidence of vehicle registration – including VIN and license plate number, Dispatch Affiliation documentation, and other documents required for Permit.  
Requirements for Vehicle/Medallion Owners
Only those vehicles operating in the current on-demand fleet will be allowed to continue operating on August 1st, 2023. To operate, the medallion owner for each vehicle must have been a part of the Taxi Pilot Program, sign the 2023 On-Demand Operating Agreement, provide the required documentation to the Port, and receive an affixed permit prior to commencing operations. Please visit the Ground Transportation Booth on the 3rd floor of the parking garage during normal business hours with your documentation. Please review the documents below for what is required to sign an agreement and receive your permit:
Requirements for Drivers
All drivers must create an account and use the Taxi Driver Portal to operate at SEA Airport. To learn more please see our Taxi Terms and Conditions. Please visit the site and setup an account and register a valid payment card.

Additional information for Owners and Drivers:
STAY CONNECTED: Please make sure to keep the Port of Seattle informed of any changes/updates to your email address so that you continue to receive future communications about the new on-demand system.  If you have not received any emails from the Port regarding the pilot program, please reach out to the email address below to ensure we have your correct contact information. All communication with the Port should be sent to: taxipilot@portseattle.org
KEEP INFORMED: Additional information regarding all items, including the outreach session, operating agreement, payment portal, etc. can be found at this website: https://www.portseattle.org/page/flat-rate-taxi-pilot-program#
In addition to a fully executed agreement with the operating agreement and operating instructions, vehicles owners will need to provide a number of startup documents prior to operating under the pilot program. Only vehicle owners/medallion owners for the current fleet of 405 vehicles will sign the operating agreement. Agreements will be available to sign at upcoming outreach sessions. Keeping up to date information with Ground Transportation is also required, please plan ahead and obtain your documents prior to their expiration. 
About the On-Demand Pilot Program
The Pilot Program officially ended as of 7/31/23 and will continue as a full program starting 8/01/23. 
The on-demand taxi/for-hire system was implemented October 1, 2019. This pilot program was created in response to the Commission Motion passed May 28, 2019 and curated by Taxi owner and driver feedback. The Port of Seattle initiated a two-year pilot program for on-demand taxi/flat-rate for-hire services at Seattle-Tacoma International Airport (SEA).
More background information can be found on the Presentation and in our Frequently Asked Questions (FAQs). All questions, comments, and applications for contacting about the program should be directed via email to taxipilot@portseattle.org.
Outreach Sessions
The new on-demand taxi/flat-rate system began on October 1, 2019 and we want to continue to hear from you! The Port of Seattle will continue hosting a series of quarterly meetings with drivers and owners so that we can get feedback, share information and make sure the program is going as smoothly as possible. Please plan to attend any and all scheduled outreach sessions to assist the Port in making sure the Taxi Program continues to runs as smoothly as possible.
Outreach Documents and Events
To help provide more information about the pilot program, the Port of Seattle will be hosting outreach events and providing the presentations and other documents distributed on this site. Parking will be validated for those who use the on-site parking garage.