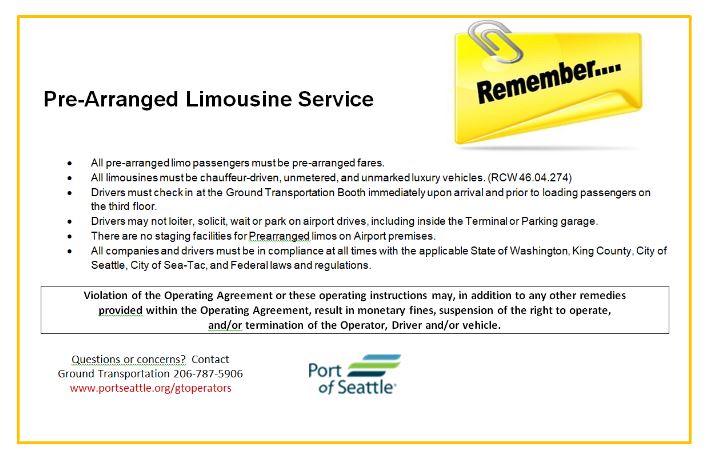 Post Date - May 27, 2019
Policy Reminder:  
All prearranged operators who pick up on the 3rd floor must check in at the GT Booth – regardless of how the operator is dispatched.
Effective March 15th 2019
All operators starting a business at Sea-Tac International Airport are required to have a current agreement  on file. You must keep your information and permits up to date.
Out of State/Canadian Limousine Operators? Please call the Ground Transportation Office at (206).787-5906 for further instruction and details.
ATTENTION: All current and new operators are required to complete and submit a new Agreement with the Port of Seattle. Please complete and email completed forms to Crosby.k@portseattle.org or Anderson.j2@portseattle.org, you may also drop it off at the Ground Transportation Booth.
Pre-Arranged Limousine operating packet (PDF)
Pre-Arranged permit required documents (PDF)
Permit Selling Hours: Effective Saturday, November 6 2021 permits can now be issued everyday from 8:00am to 9:00pm
VISA, MC, AMEX accepted. No cash, checks, or money orders will be honored
2023 Trip/Permit Fees (PDF)
OPERATING AREA
Permitted Pre-Arranged limousines are allowed to pick up on the Arrival Drive (Lower Drive). 
Drop offs must be done on the Departure drive (Upper Drive). Please note you must use the Load and Unload Lanes, Bus Zones. Thru Lanes and marked off areas are not permitted space to use.
In order to do a meet and greet, drivers must park their vehicles on the 3rd floor of the parking garage in the Ground Transportation Plaza in the marked limo stalls. The driver must print a pass, this pass must be displayed upright on the dash. Drivers passes are required for all Pre-Arranged Limousines regardless of how you are dispatched. If you have gone over your time and an extension is needed please contact the Ground Transportation office at 206-787-5906 .
For Pre-Arranged Limousines who exceed the height limits for the 3rd floor entry way please call our office at 206-787-5906 to get specific directions on where to park your vehicle. Please note, over-height vehicles are required to check in via phone when utilizing the over-height parking area.

FAQs
I want to switch my vehicle; do I have to purchase a new permit?
If you have a current pre-arranged permit on your vehicle and need to switch your vehicle out you have the option to do so as long as you are the owner of the previous car and the current vehicle. You will not be charged for a new permit as long as you have the old one, current paperwork for your new car present at the booth.  
I just got my windshield replaced, How do I get a new permit?
You will need to bring all the original paperwork and the voided permit in order to get a replacement sticker. If you have the required documents you will not be charge.
Arrivals is busy, can I use the Departure drive to pick up my guest?
No, you will be cited for "loading in the wrong drive."
I am going on vacation soon, can my driver come into purchase a permit for me?
A Signature Capture/Authorized Signer Form must be fill out in order for someone to purchase permits other than the owner. Both parties will need to come to the Ground Transportation Booth and fill out the form here, please bring your identification as well.
Do you prorate the cost of permits?
Permits are issued based off your DOL expiration date, no we do not prorate.
Can I park in the parcel stalls?
If you park in the parcel stalls you must let Ground Transportation staff know that you are doing so. Please note that we only accommodate parking in unauthorized areas when the limousine stalls are full.
HELPFUL LINKS