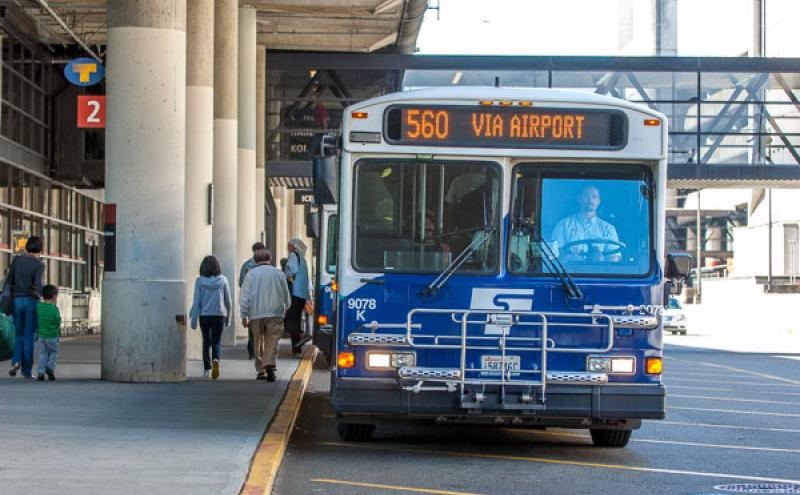 Traveler Alert: In response to COVID-19 temporary service reductions begin March 23, 2020. Metro has discontinued fare payments, and moved to rear-door bus boarding except for passengers with mobility challenges. Visit King County Metro for more information on changes.
Directions to King County Metro Bus Stops​
The King County Metro bus stops that serve Seattle-Tacoma International Airport (routes that serve SEA) are located on International Boulevard (State Highway-99) and South 176th Street by the Link Light Rail Station. The most convenient route to the stops is to take the walkway through the north end of the fourth floor of the Airport Parking Garage to the Sound Transit Link Light Rail Station and exit to International Boulevard
The following King County Metro routes pickup adjacent to the light rail station on International Boulevard:
Rapid Ride A line (Federal Way)
Route 180 (Burien/Auburn)
Route 156 (Southcenter/Des Moines)
Departure times are shown on information signs at the bus stop. You also can pick up printed bus timetables at the Ground Transportation Information Booth on the Baggage Claim level near door number 16 (across from baggage carousel 12).
Traveler Alert
: In response to COVID-19 Sound Transit is temporarily reducing Link, Sounder and some ST Express service beginning Monday, March 23 until further notice. Starting on Saturday, March 21 Sound Transit will suspend fare requirements on buses and trains until further notice. Visit
Sound Transit
for more information on changes. Pierce Transit routes 560 and 570 will run at reduced frequency similar to typical Saturday schedules, with some enhancements. 
Sound Transit operates two express bus routes that pickup and drop off passengers at the sound end of the main terminal on our lower drive. The ST Route 560 serves Burien, Renton, and Bellevue, WA. The ST Route 574 heads south and connects passengers with Federal way, Tacoma, and terminates in Lakewood, WA.
Paying for the Bus
Both King County Metro Transit and Sound Transit buses accept cash or ORCA Card payment​. Pay as you enter the bus. Please note that bus drivers do not carry change, so you will need to pay the exact fare.