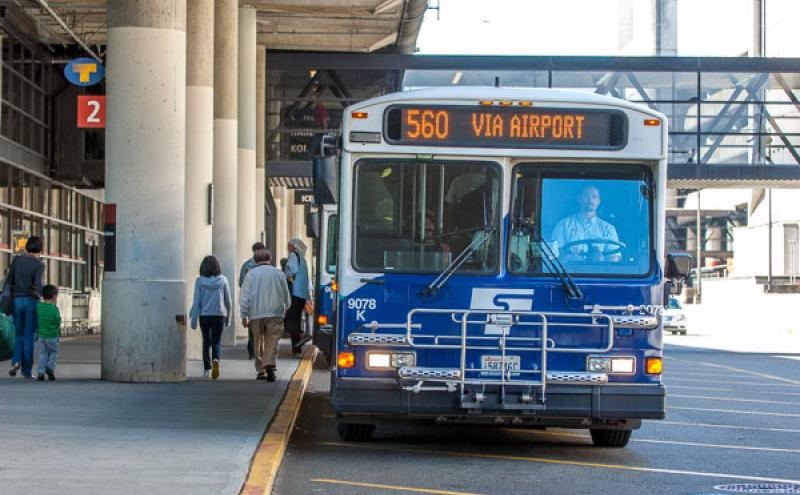 Directions to King County Metro Bus Stops​
The King County Metro bus stops for routes that serve SEA are located on International Boulevard (State Highway 99) and South 176th Street by the SeaTac/Airport Link Light Rail station. You can use King County Metro's Trip Planner tool to find bus routes that serve SEA. The best way to get to the stops is to take the walkway through the north end of the fourth floor of the Airport Parking Garage to the Sound Transit Link Light Rail Station and exit to International Boulevard. You can exit to International Boulevard via the elevator or stairs on the west side of the station.
The following King County Metro routes pickup adjacent to the light rail station on International Boulevard:
Rapid Ride A-line (Federal Way)
Route 161 (Burien/Kent)
Route 156 (Southcenter/Des Moines)
Route 124 operates on the airport drives between 1 am and 5 am. Departure times are shown on information signs at the bus stop. You also can pick up printed bus timetables at the Ground Transportation Information Booth on the Baggage Claim level near door number 16 (across from baggage carousel 12).
Sound Transit operates two express bus routes that pick up and drop off passengers at the sound end of the main terminal on our lower drive. The ST Route 560 serves Burien, Renton, and Bellevue, WA. (ST 560 Schedule) The ST Route 574 heads south and connects passengers with Federal Way, Tacoma, and terminates in Lakewood, WA (ST 574 Schedule). Learn more through the Sound Transit System Service Maps.
Paying for the Bus
Both King County Metro Transit and Sound Transit buses accept cash or ORCA Card payment. Pay as you enter the bus. Please note that bus drivers do not carry change, so you will need to pay the exact fare.