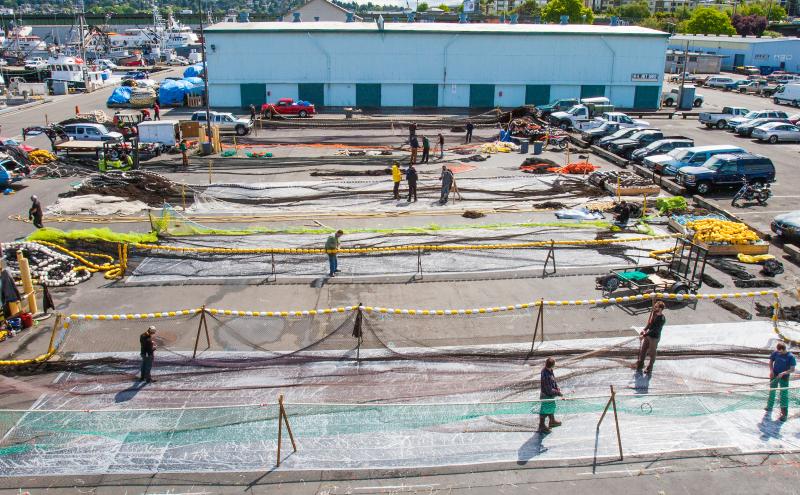 ‌ Services and Amenities
 
Low rates and preferred moorage for active commercial fishing boats
230 slips and more than 9,400 feet of linear moorage in fresh water just one mile from the Hiram Chittenden Locks
Electricity: 480 volt / 200 amp / 3-phase, 240 volt / 100 amp, 110 volt / 3 amp twist lock
Water: standpipes with 3/4 inch garden hose fittings
Garbage and recycling (including oil recycling)
On-site forklift and crane rentals, and two electric hoists
On-site sewer pump out station
Loading docks that accommodate boats up to 250 feet in length and hot work areas (with permit from Seattle Fire Department)
Covered and open gear storage available
Net repair area available at no cost to monthly moorage customers
One shipyard (FVO) and one boatyard (Salmon Bay Boat Yard) on-site
24/7 staffing and security cameras
Restrooms and showers
Shops, restaurants and office space
Free parking up to three days
---
Moorage and Equipment Rental Rates
 
The lowest moorage rates at Fishermen's Terminal are for active commercial fishing vessels. The rate structure recognizes the economic impact of the commercial fishing industry and the fact that Fishermen's Terminal was built to serve as a homeport for the North Pacific fleet.
Active Fishing Vessel Rates

Size
Monthly Rate*
Daily Rate
30' - 79'
$8.72/ft
$0.83/ft
80' - 125'
$12.25/ft
$1.13/ft
Over 125'
$14.17/ft
$1.40/ft
* Monthly rate - based on registered length and include 12.84% leasehold tax
**Daily rate - based on length overall. Vessels staying 30+ consecutive days are subject to 12.84% leasehold tax from 1st day of visit.
 

Commercial Equipment and Storage Rental Rates

Item
Size
Per Hour
Per Month
Minimum
Forklift self-drive
Up to 3 tons
$65.12
-
1/2 hour
Forklift and operator
Up to 3 tons
$111.76
-
1 hour
Forklift and operator
3 tons and over
$111.76
-
1 hour
Hoist-WWall self operate
3 tons
$65.11
-
1/2 hour
Cranes - Dock 9 and 6 self operate
3/4 tons
$31.84
-
1/2 hour
Crane - Westwall
3 tons
$111.66
-
1/2 hour
Dumpster
1.50
 
69.96
until full
Fenced storage
Misc
-
$.50/sqft
$75.20/mo
Net Shed
 
 
 
 
Fishing and Commercial  customers
200-700 sqft
-
$0.64/sqft
$128/mo
Uplands tenants
200-700 sqft
-
$0.70sqft
$140/mo
General public
200 - 700 sqft
-
$0.77/sqft
$154/mo
Electricity is charged at Seattle City Light rates
---
Facility Map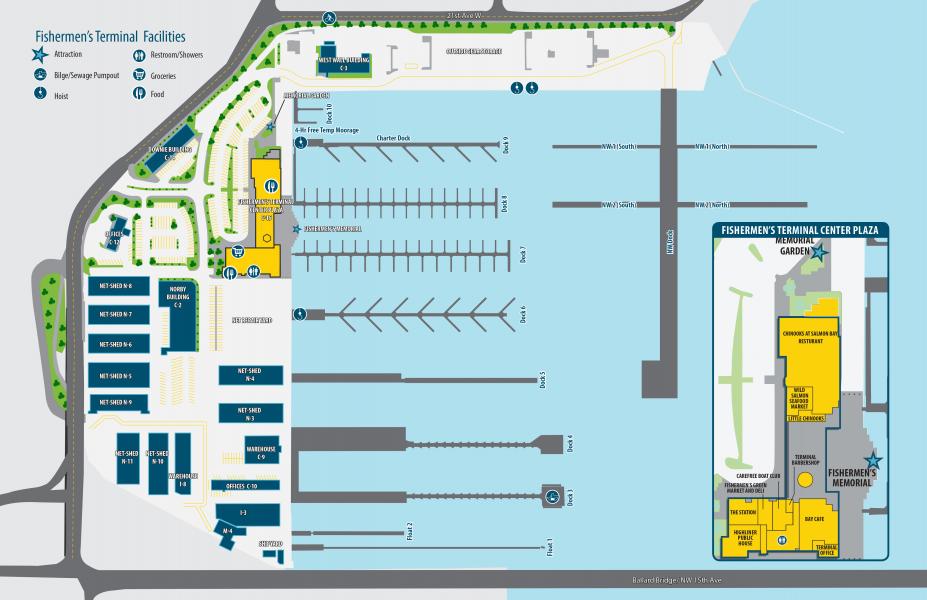 ---
Resources for Fishers
 
Key Organizations
Fishing Associations
---