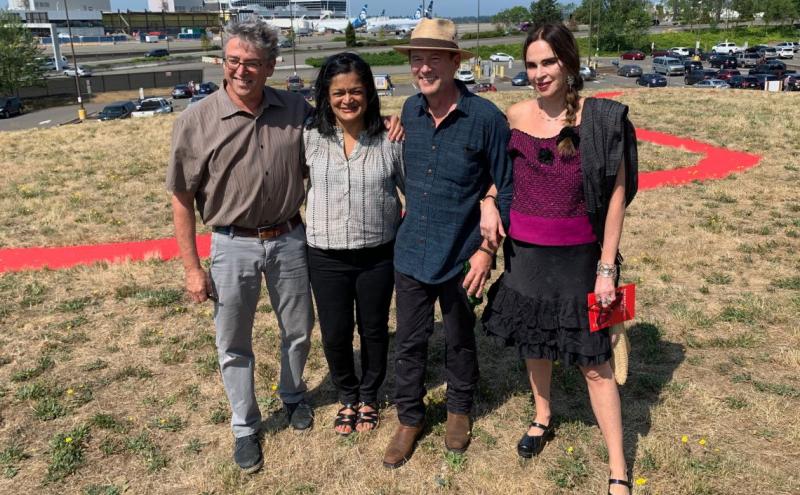 Art Outlives Politics
Aug 16, 2019
Earlier this month, Representative Pramila Jayapal, Commissioner Fred Felleman and I had the honor to attend the official unveiling of Red Sand Project: Border US-MX, an earth works art installation at Sea-Tac Airport to draw attention to immigration and human trafficking.
It is thrilling to welcome the first temporary public art installation on our airport grounds, particularly as this project was privately funded by Stardust Arts and the artist, Molly Gochman, at no cost to the Port.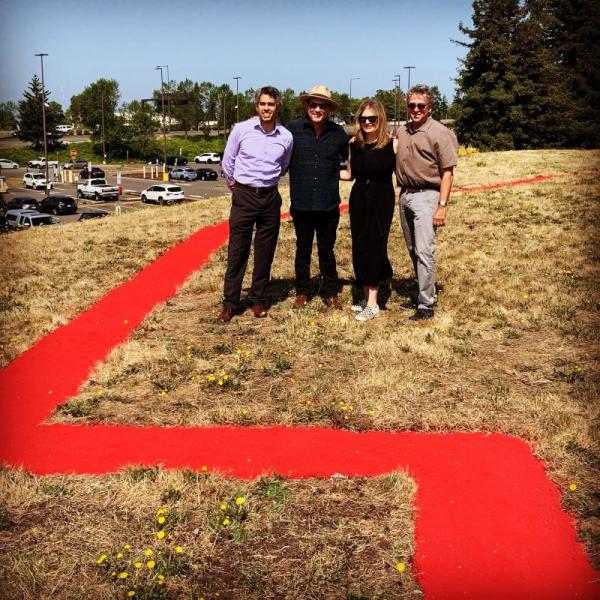 As co-chair of the Port's Art Oversight Committee, I am passionate about ensuring a thriving art program at Sea-Tac Airport. The Port of Seattle was an early adopter of public art, and as early as 1969, we started developing what is one of the most prominent public art collections of any airport in the United States.
Inside the airport, we have a robust rotating art exhibition program, and we are very excited to extend that program to outside. 
Red Sand Project expresses the Port's mission and values, including to raise public awareness over issues that we are strongly concerned with, such as immigration rights and human trafficking.  
With over 50 million passengers per year at Sea-Tac Airport, we are the state's largest international gateway. We are also the welcome center for travelers and immigrants from around the world.  We deeply value the cultural diversity immigrants bring to our state, and the very hard work of migrant farm workers, many thousands of whom pass through Sea-Tac Airport. 
Regrettably, in recent times, immigrant and refugee issues have been brought to the forefront at the Mexico–U.S. border in offensive, outrageous and inhumane ways that defile our commonly shared values of human dignity, decency, compassion, and respect. 
The Port has taken a leadership role in providing a welcoming and safe environment for everyone who uses or visits our travel facilities. 
In January 2018, thanks especially to Commissioner Courtney Gregoire's strong leadership on the issue, the Commission enacted our first-ever Port-wide strategy against human trafficking, to leverage our role as a manager of significant trade and travel facilities to ensure that we are not used as transit points for traffickers and their victims. 
In May 2018, we passed a Welcoming Port Policy to safeguard that our region remains a vibrant and welcoming place for immigrants, refugees, migrant workers, and foreign visitors.
 
And finally, earlier this year, the Port joined with local governments, transit agencies, nonprofits, and private sector partners to launch a unified human trafficking public awareness campaign, encouraging our region's residents to identify trafficking activity and report it to the national hotline.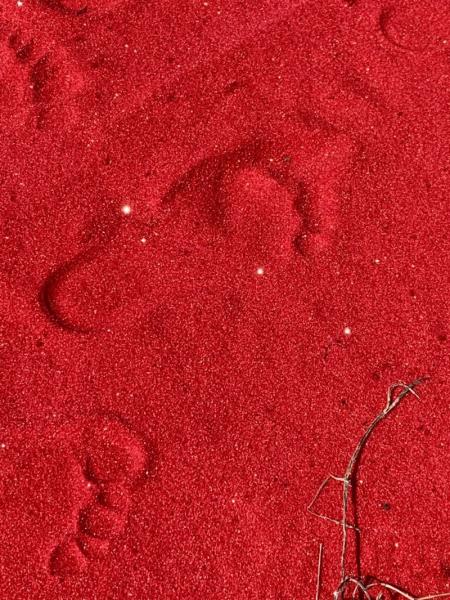 The message and impact of the Red Sand Project is a natural progression of our immigration and anti-trafficking efforts, and we are glad to use our art program to highlight these important issues with passengers, arriving immigrants, and the traveling public.
You can see the Red Sand Project in one of three ways:
 On light rail, look to the west toward the airport as you near the FAA tower. There will be interpretive signs at the airport station.
On foot at the cell phone parking lot you can see the art up-close by following the sign in the lot and walk up the grassy hillside. Be careful, the hill can be steep. 
And finally, you may be able to see the project as you land or depart Sea-Tac Airport.
Thank you to everyone who had a hand in making Red Sand Project: Border US-MX happen: Molly Gochman who is the mastermind behind the work; Stardust Arts whose generous funding made it possible; Tommy Gregory from the airport's art team; Chad Aldridge and our anti-human trafficking liaison; and to all our anti-human trafficking partners. Ongoing partnership is needed in fighting to ensure that we protect the rights and uphold equity for every King County resident and every person who uses Port facilities. 
Photo caption for top photo: Port Commissioner Peter Steinbrueck, Port Commissioner Fred Felleman, Congresswoman Pramila Jayapal, and Maite Guadarrama.