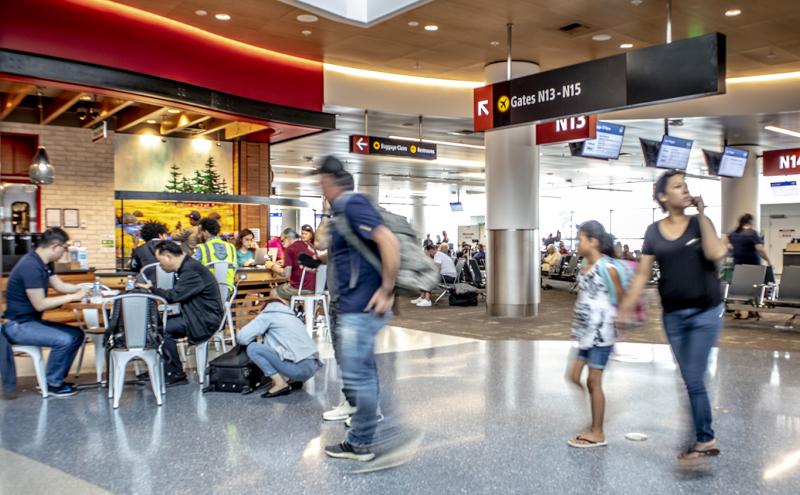 Spot Saver expands hours, Central Terminal re-opens, expect congested parking, and arrive early!
November 11, 2022
There's a simple way to 'Be A Hero' when it comes to holiday crowds at Seattle-Tacoma International (SEA) airport – avoid the congestion and lines! It doesn't take a cape, just some pre-planning and you'll 'Be A Hero' to your fellow travelers or family while making it easier on yourself! How, you say?
Avoid the hassles of driving with Sound Transit's Link Light Rail — the best option out of a traffic jam.
Airport parking will be a challenge. Consider alternative modes of transportation to/from the airport like a taxi or ride share option.
Switch it up to Speed it Up! - Early morning and late evening drivers this is for you.  Use the arrivals/lower level to drop off in the morning and departures/upper level to pick up in the evening!
Use SEA Spot Saver to reserve your spot in the TSA line – with expanded hours to 10:00 p.m.
Try Order SEA, a mobile ordering service for gate delivery for food from all over the airport or pick up so you can grab and go to your gate, and
Download (or update!) the flySEA App for live checkpoint wait times. As a bonus, it also is a one-stop resource for traveler alerts, parking spot tracker, maps, and more info
What's New?
The Central Terminal is re-opening! It's been a long construction run through the pandemic, but you'll soon be able to again go right up to our iconic window wall in the Central Terminal as the renovation project takes its next big step. More space, more tech, more seating, is all coming. Plus, new dining and retail space is coming soon as well.
SEA Spot Saver is a hit and we've expanded the hours to 10:00 p.m. Previously, the advanced check-in option for security checkpoint lines was only available during the busiest times of the day, until 1:00 p.m. Now afternoon and evening options for the free service can make your travel more predictable and efficient until 10:00 p.m. Take advantage of it!
SEA Airport is encouraging travelers to think ahead, arrive early, be prepared for congestion, and find ways to make your trip easier with advanced planning.
Airport Parking Will be a Challenge — The good news is that the new automated parking guidance system continues to upgrade your experience in the garage with easy-to-use lighting marking available/occupied stalls with green/red lights. Right now, five of the eight floors are complete with the rest set to finish by early 2023 and is expected to cut down the time required to find a stall by 50 percent.  Parking availability remains low across the entire airport area. Plan up to 45 minutes to find a spot on the busiest days. Pre-Booked Parking is limited, and is already sold out for the Thanksgiving and Christmas holidays. We recommend booking your parking as early as possible during peak periods. Your best bet is to find alternate ways to get to the airport such as public transit, light rail or ride share!
By The Numbers
Holiday period passenger numbers are expected to get even closer to pre-pandemic levels – forecasted to be about 95% of 2019. That would be about 13% above last year.
The busiest days are expected to be Wednesday, November 23, with a forecasted 160,000 passengers traveling through the airport (departing, arriving, and connecting). The next busiest will be Friday, November 18, projecting 146,000 overall passengers through the airport, followed by Saturday, November 26 with a projected 142,000 travelers through the airport. Pre-pandemic passenger numbers reached as high as 185,000 per day during Labor Day weekend in 2019. Overall, the busiest days to travel are Thursdays and Fridays as well as Sundays and Mondays, with TSA security checkpoints busiest at SEA from 5:00 – 10:00 a.m., 2:00 – 5:00 p.m., and 9:00 –11:00 p.m.
SEA's latest forecasts of passenger numbers for 2022 will be about 11% below 2019 levels with 2023 down 6% and returning to pre-pandemic levels in 2024. Dig in more on our Statistics page.
What's the Best Advice for Travelers?
Get here early! Depending on your needs, you may need more time. Make sure you're at the airport at least two hours before your boarding time for a domestic flight and three hours before an international flight
Be prepped with your airline ahead of time! Make sure you check their baggage policies, check in, and have all their apps downloaded for efficient travel. See our best baggage tips!
Masks are not required at the airport, but highly recommended by the CDC to wear during travel. Check your destination's COVID-19 requirements for entry. If needed XpresCheck has testing available on the baggage claim level.
Safety First; Avoid Shoulder Parking — Vehicles are encouraged to use the new reconfigured cellphone lot and avoid dangerous parking along the shoulder of the airport drives. Violators will be cited as the Port of Seattle Police are working with the Washington State Patrol for emphasis patrols during the holiday.
Alternate ways to get to SEA Airport
Catch a ride with taxis or app-based rideshares like Uber and Lyft, or other modes of  ground transportation
Rent your own ride. All rental car companies operate at an off-site rental car facility where dedicated shuttle buses transport passengers for free 24-hours-a-day, 365 days a year
Pedal power! Yes, you can even bicycle to the airport with bike racks and two ways to access the airport on a bike
If you still plan to park, expect 45-60 minutes to find a stall. Off-site parking facilities are also expected to be very busy or already full
If you're picking up or dropping off loved ones:
Give me the Traveler Basics
Contact
Perry Cooper | Port of Seattle Senior Media Officer
(206) 787-4923 | cooper.p@portseattle.org