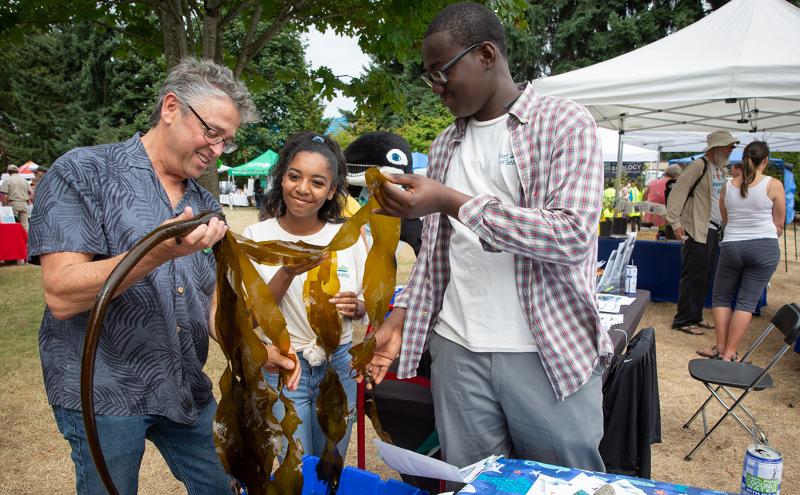 Dec 21, 2021
As we come to the end of the year, it's important to reflect on the journey we've navigated for the past 12 months.
I've had the privilege of serving the residents of King County in a greater capacity as commission president in 2021. It was made all the more challenging by the pandemic's persistence for a second year. However, this year also marked the Port of Seattle's 110th birthday which served to remind me of this institution's resiliency.
We began this year cautiously optimistic about recovery but also keenly aware the pandemic was still exacerbating the pervasive social and economic inequities in our society.
So, we stayed focused on our mission of creating broad-based economic opportunities by building, maintaining, and operating our gateways, to sustain the region's economic base, and create the jobs of the future.
However, for us to fully realize our mission, we also focused on how we operate and how we build.
We've already made significant strides toward these goals in 2021 and we'll do even more in 2022. This is due in large part to the extra time taken in the development of the 2022 budget this year with Executive Director Metruck. We've created a more unified Port vision through the integration of Commission priorities with the Port's mission.
This development enabled us to continue to meet the Port's immediate needs while preparing for major transformations to come to our region and to the planet as severe storms, tornados, floods, and fires wreak havoc on all we hold dear.
Some of the ways we addressed these challenges was by:
Keeping health and safety central to everything we do.
Continuing to invest in capital projects.
Expanding our commitments to sustainability and equity — making them not just programs, but integral parts of all Port operations.
Working to assure our interactions within the Port and our engagement with communities are culturally appropriate, from kelp to killer whales and climate.
While 2021 was primarily focused on recovery, I'm pleased to say that we also made major progress to advance our ambitious goals this year:
With safety at the forefront, we estimate that by year's end airport passenger traffic will have recovered to 74 percent of 2019 pre-COVID levels.
We completed the construction of the International Arrivals Facility. With its iconic bridge, spacious and artful facilities, the international passenger experience will be transformed when it opens in the first quarter of 2022.
We added 10 remodeled gates with the completion of Phase II of the North Satellite Renovation Project that also provides new dining facilities, modern amenities, and sustainable features like rainwater catchment.
We hosted a Sustainable Aviation Fuels (SAF) Study Session and initiated a study of converting municipal solid waste to liquid fuels with King County.
We entered into a 10-year contract to provide renewable natural gas to run the HVAC systems and shuttle buses at the airport thereby enabling the Port to meet our GHG reduction targets 10 years early.
We adopted the Northwest Ports Clean Air Strategy which lays out a shared vision for a zero-emission maritime industry and developed the Port of Seattle's Maritime Climate and Air Action Plan - Charting the Course to Zero.
Our advocacy over the past three years helped the state of Washington to adopt a Clean Fuels Standard this year.
Not long after the causes for port congestion became the subject of kitchen table conversation, Terminal 5 will reopen next month through our partnership with the Northwest Seaport Alliance. With on-dock rail and shore-power amongst other modern amenities, it will enable us to reduce congestion and air pollution impacting surrounding communities.
We made a major investment in the repair of the West Seattle Bridge so that commerce and commuters can coexists and assure construction is completed promptly.
We worked with cruise lines, federal, and local officials to safely restore cruise operations, with a total of 83 cruise sailings in 2021. We also updated cruise ship lease agreements to require use of shorepower for those ships equipped to do so and restrict the discharge from seawater scrubbers.
We continued to support Tourism opportunities for the region and state through grant programs as well as ongoing investments in the Washington Tourism Alliance and Visit Seattle. The Port will be sponsoring an eco-tourism conference in 2022.
And we continued to advance maritime innovation through investments in Washington Maritime Blue and redevelopment of the Ship Supply building into a Maritime Innovation Center to be certified as a "living building."
The Maritime Innovation Center was the first construction project subject to screening by the Port's Sustainability Framework. It involves identifying ways to reduce the environmental impact of large projects when the design is 30 percent complete.
And we participated in the establishment of the Quiet Sound Program to explore ways to reduce ship noise in the presence of our endangered orca.
We introduced the Port-wide Equity, Diversity, and Inclusion program and Launched the Port's Equity Index to guide funding decisions and broadly inform policies across the Port.
We advanced the implementation of the Duwamish Valley Community Equity Program, including the opening of the Duwamish River Community Hub in South Park.
We added resources for the South King County Fund to mitigate the impacts of the pandemic and port operations on communities and to support regional economic recovery.
We supported legislation that has enabled the Port to help Flight Kitchen and other Airport workers receive the compensation they deserve.
These are some of the many of the Port's accomplishments I'm proud to have helped steward for the benefit of the region.
The Port's impact and influence also reached Washington D.C.
In addition to our ongoing outreach efforts and many visits with members of Congress, we welcomed several representatives from the Biden Administration this year including U.S. Department of Transportation Deputy Secretary Polly Trottenberg, White House Council on Environmental Quality (CEQ) Chair Brenda Mallory and Secretary of Commerce Gina Raimondo as well as members of the US Maritime Commission and others.
We worked with Congress to successfully make the case for the Biden Administration's Infrastructure Investment and Jobs Act and Build Back Better Act to include significant investments in ports that reflect our shared commitment to commerce, equity, and the environment.
For an organization that's been around for 110 years, transformation is nothing new. As exemplified by our neighboring tribal leaders with whom we share a special relationship, we do what we do for future generations.
The first quarter of next year will start off easy with the long-awaited completion of the IAF and T5. While there will inevitably be unexpected challenges to face in the future, such as new strains of the coronavirus, I expect the review of the Sustainable Airport Master Plan and resolution of competing interests involving the future of Terminal 46, to be the top priorities we'll need to address in 2022.
Looking forward, I'm personally excited to develop the first eco-tourism conference and collaboration with the Aquarium along with the ongoing efforts to protect industrial lands from encroachment and to decongest terminal traffic.
To Executive Director Metruck, your integrity, humility, partnership, and commitment to public service has been instrumental in creating a unified position with the commission to advance the port's mission.
To commissioners Bowman and Steinbrueck as your terms come to an end, know that the Port of Seattle is a better, stronger organization because of your contributions.
I'd also like to recognize Commissioners Calkins and Cho for their continued hard work and commitment to the Port. We have a lot of work to do, and I look forward to working with you as we welcome our two new commissioners Hamdi Mohammed and Toshiko Hasegawa who will bring added perspectives to carrying out the Port's mission.
To my colleagues and community, there's no doubt this has been a challenging but very successful year. It's truly been an honor to serve as president in 2021.
Thank you for entrusting me to help lead us through this year's journey.