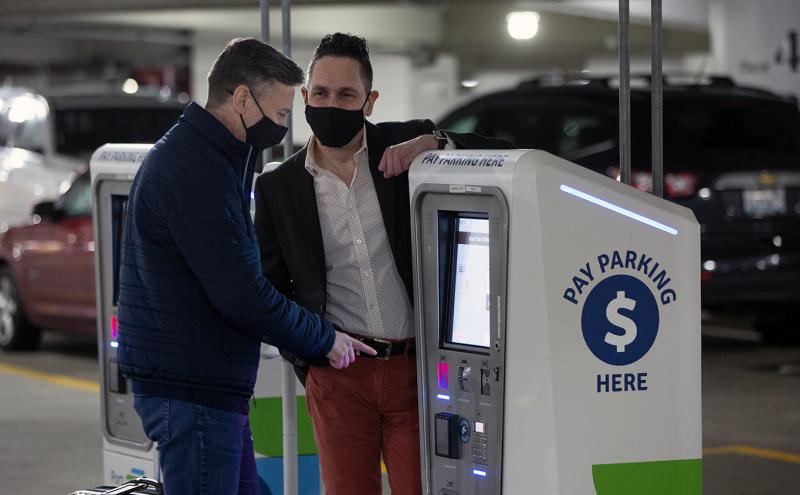 Arrive early, use flySEA app, try alternate transit, and more!
December 17, 2021
With nearly a million travelers projected to go through Seattle-Tacoma International Airport (SEA) each of the next two weeks, the holiday season is expected to be close to pre-pandemic levels. That's good for getting away or visiting friends and family, but SEA Airport wants travelers to prepare in advance to avoid the worst congestion and longest lines.     
More travelers are using private vehicles during the pandemic which is stretching to capacity the airport garage and off-airport parking. Finding alternate ways to get to the airport — such as Link light rail, rideshares, and public transit help avoid the airport drives that are congested with vehicles looking to pick up family or head out to grandma's house. To help travelers prepare, SEA Airport is continuing its holiday public information campaign to get the word out for easy and stress-free ways to avoid waiting.
What's the best advice for travelers?
It's busy since the last time you've been here – get here early! Two hours before a domestic flight, three hours before an international flight.
Spread joy not germs – masks are still required at the airport – and make sure to check your destination's COVID-19 requirements for entry. Visit XpresCheck if testing is required, they're available on the bag claim level.
Think of alternate modes of travel to get to the airport.
Security lines are another highly congested place in the airport. Use SEA Spot Saver to skip the security line!
Download the (or update!) the flySEA App for alerts, maps, info and
Our food ordering service Order SEA, with an option for gate delivery, for food from all over the airport.
Alternate ways to get to SEA Airport
What's new to make travel easier at SEA
Start with our Holiday Travel Guide 2021
Use SEA Spot Saver to skip the security line! This free program enables you to make a reservation for the TSA general screening security line. This first-of-its-kind program is now being copied by other airports but here at SEA now! RSVP to save your spot in line up to 72 hours before travel for flights between 5 a.m. to 1 p.m. – our busiest times at checkpoints!
Arrive two hours before domestic flights and three hours prior for international travel.
For a more efficient experience, download (or update!) the flySEA App. See checkpoint waits in real time in 5-minute increments, locate dining and retail to explore, and use the interactive map to navigate the airport.
Look for the SEA Pathfinders in bright green if you have questions in the terminal or DM us and our customer care team is happy to help!
Check TSA's rules on what you can bring through security.
Don't start your vacation hangry, eat with Order SEA, our mobile food ordering service with an option for gate delivery, for food from all over the airport.
Stay on the nice list. SEA Airport, the businesses and restaurants, and airlines are working hard to staff up and get ready for the travel rush. Pack your flexibility and patience for the holidays!
AskSEA is a new voice-activated app to get your airport questions answered at home! Prep for your trip with a Google Assistant or an Amazon Alexa for quick answers.
The new N Concourse is now open! With 20 new gates, new landmark public art installations, open seating with views of the airfield in the Marketplace at N, and more coming soon like Filson and Wendy's in early January.
Once you're here enjoy two new dining and retail options with Tundra Taqueria and SEA Roast Coffee House at the home of the N gates. And check out more throughout the terminal!
Want to meet someone at the gate or dine and watch the airfield? The SEA Visitor Pass is back for those who are not flying. Space is limited each day.
By the numbers
Current projections forecast about 900,000 travelers will go through SEA Airport each of the next two weeks. From December 19–25, an estimated 872,500 travelers will go through the SEA, which includes departing, arriving, and connecting traffic. From Dec. 26–Jan 1, that number rises to an estimated 918,000. The busiest days will be the Monday after the holiday, Dec. 27 as many return home (139,000 travelers through the airport), followed by the Thursday prior to New Year's (Dec. 30 at 136,000). The next busiest is projected to be Thursday, Dec. 23 and Wednesday, Dec. 29 (135,000), Sunday, Dec. 26 (132,000), and Monday, Dec. 20, Tuesday, Dec. 28 (130,500). This represents approximately 80–90% of the passenger volume we saw pre-pandemic in 2019. The busiest times at SEA are during the summer months of June through August which in 2021 saw the busiest days with over 145,000 passengers through the airport. In 2019 there were over 185,000 per day. 
Good reminders
Masks are required at the airport and onboard your aircraft.
If you're sick, stay home. If you have symptoms, do not travel.
Breathe easy knowing our air filtration and ventilation system constantly circulates fresh, outdoor air throughout the terminal and uses a system that captures 90% of COVID-19 particles.
Give me the traveler basics
The CDC guidance for travelers changes depending on your COVID-19 vaccination status. Check with your airline for the state or country where you plan to travel.
Be ready for security checkpoints. SEA and TSA want to help you move through security checkpoints as quickly as possible. Travelers are required to remove electronics larger than a cell phone from carry-on luggage. Also, remove foods and liquids from your carry-on luggage, prepare to hold up your boarding pass for review, and wear your mask. You can also see the latest Identification and Documentation Requirements.
Need more travel hacks? Visit the Customer Service webpage for our best advice to navigate SEA like a frequent flier.
SEA is adding new services to make travel more accessible and improve the travel experience beyond the Americans with Disabilities Act (ADA) requirements. Check out our SEA Social Story developed for travelers with sensory sensitivities such as autism, but also great overall tips for kids. Learn more about accessibility at SEA. The interactive map on the flySEA App offers accessible route directions.
Check with the City of SeaTac to see if there are any road construction projects that might hinder your access to the airport.
Contact
Perry Cooper | SEA Airport Media Officer
(206) 787-4923 | cooper.p@portseattle.org