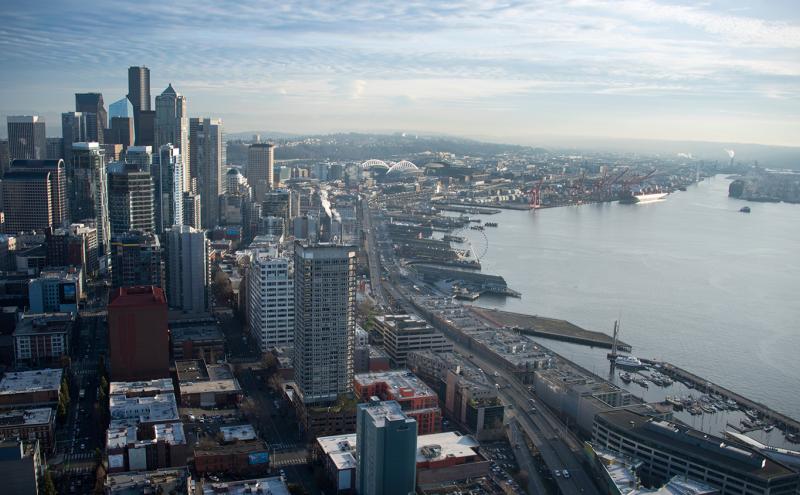 New and expanded community programs extend benefits across Washington State
November 20, 2019
The Port of Seattle approved its 2020 budget and five-year capital plan today. The budget and capital improvement plan support regional economic and community priorities by investing in airport customer service and efficiency, making maritime, manufacturing, and trade-centric industries more competitive in the modern global economy, and supporting community-supported economic development and environmental improvements.
The Port of Seattle held 14 public briefings and meetings on the budget, beginning in June 2019, including two community open houses in October.
"This budget responds to our region's urgent need for more efficient and modern infrastructure, while maintaining the fiscal stewardship that allows us to invest deeply in the future," said Port of Seattle Executive Director Stephen P. Metruck. "This is how a thriving public port supports a globally competitive, sustainable, and equitable economy."
"This budget makes the largest community-level economic development and sustainability investments in the Port's history," said Port of Seattle Commission President Stephanie Bowman. "We share our region's values and are partners in helping communities and industries across Washington leverage Port services for strengthening their community through economic and environmental investment."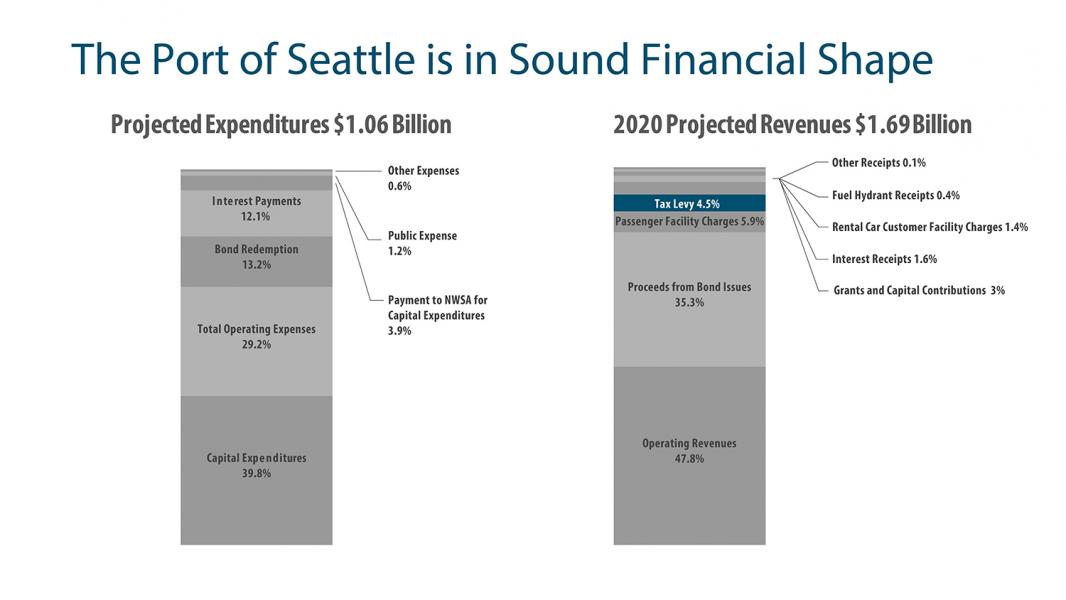 CAPITAL BUDGET
Capital projects, the infrastructure that supports the region's economy, make up the largest share of the Port's budget. The Capital Investment Plan (CIP), which amounts to $640 million for 2020 and $3.4 billion over the next five years, makes the trade and travel infrastructure that local industries and residents depend upon more efficient, sustainable, and durable for decades.
Capital projects at the airport improve customer service and safety, maintain airport facilities, and generate new revenue for future investment. Signature projects at Sea-Tac International Airport (SEA) include completion of the International Arrivals Facility and North Satellite expansion/renovation, and baggage system optimization.
The Port's maritime capital projects invest in the industries where Seattle's natural advantages align to global growth opportunities, particularly in maritime cargo, commercial fishing, coastal tourism, and support for industrial lands.
The 2020 budget also makes more money available for public art. By returning to a pre-2008 recession funding model, the Port will double its public art funding from $10 million to $20 million in the next five years.
OPERATING BUDGET
The Port's 2020 operating budget responds to regional needs by investing in customer service, innovation, sustainability, safety and security, organizational effectiveness, and equity.
The 2020 budget also expands investment in economic development and sustainability projects that benefit communities and industries across Washington. In 2020, the Port will spend $15.2 million on 15 different community programs.
The budget includes total operating revenues of $811 million, a 7.7% increase over the 2019 budget, and total operating expenses are $470 million, a 3.2% increase over 2019. Budgeted Net Operating Income is $341 million, 14.5% above 2019.
Seattle-Tacoma International Airport (SEA) Highlights
SEA's main terminal was built to support 30 million passengers. In 2019 the airport is expected to serve more than 50 million passengers. Investments at SEA improve the customer experience, particularly during peak periods where congestion slows travel on the drives and in the terminal. SEA 2020 capital and operating budget highlights include:
Spend $2.9 billion in the capital budget over five years to transform passenger facilities, including improvements in restrooms, ticketing areas, and high-profile projects in the Central Terminal (opening in 2020), International Arrivals Facility (opening in 2020), and North Satellite (opening in 2021)
Reduce carbon footprint with innovative programs, including renewable natural gas, diesel, Sustainable Aviation Fuel, and the Good Traveler carbon-offset program so travelers can offset air travel carbon emissions
Increase support for terminal improvement planning, particularly in the main terminal and for ground transportation
Support the environmental review of the Sustainable Airport Master Plan
Expand staffing programs to reduce passenger wait times at checkpoints
Increase in-person customer service for international arrivals to improve the experience during peak periods.
Maritime and Economic Development Division Highlights
The Port's maritime and economic development divisions and partnership with the Port of Tacoma through the Northwest Seaport Alliance support Puget Sound as a global maritime leader and anchor valuable maritime jobs in our region. Maritime and economic development division budget highlights include:
Spend $679 million over five years on capital projects across Port of Seattle and Northwest Seaport Alliance, including:
Spending $440 million on Fishermen's Terminal redevelopment, Terminal 117 habitat restoration, Terminal 91 Uplands development, new cruise terminal on the north end of Terminal 46, bringing clean electricity to power waterfront activities at Pier 66, and upgrading the interior of the Bell Harbor Conference Center. The CIP also includes $107 million of additional funding primarily for the preservation of critical maritime infrastructure.
Investing $184 million over the next five years in the Northwest Seaport Alliance capital program, which includes modernizing Terminal 5 to make it one of the most efficient container terminals on the West Coast.
Funding $55 million of other projects including channel deepening in the Seattle Harbor.
Community Programs
The Port's 2020 budget includes initiatives that drive regional economic activity while advancing equity, diversity, and inclusion. The Port's sustainability initiatives advance the Port's goal to be the greenest and most energy efficient Port in North America.
Dedicate $1.5 million of the $10 million South King County Fund to make community-driven investments in areas most impacted by Port operations
Establish the new Duwamish Valley Community Equity Program to focus on environmental justice and economic opportunity
Add new resources for low carbon fuel standard support
Maintain tourism and economic development initiatives, like the Tourism Marketing Support, which has provided more than $531,000 in marketing support to destinations across Washington state and the Economic Development Partnership Program which has provided $965,000 in economic development investments since 2017
Continue the Spotlight program which offers steeply discounted airport terminal advertisements to local cities and destinations
Establish a Maritime Innovation Center to spur innovations that sustain the region's fishing industry and protect our maritime environment.
Study the development of a Maritime Secondary Education program for King County
Outreach to support the Port's 2020 Diversity in Contracting goals
Expand the Port's new Office of Equity, Diversity, and Inclusion with additional staff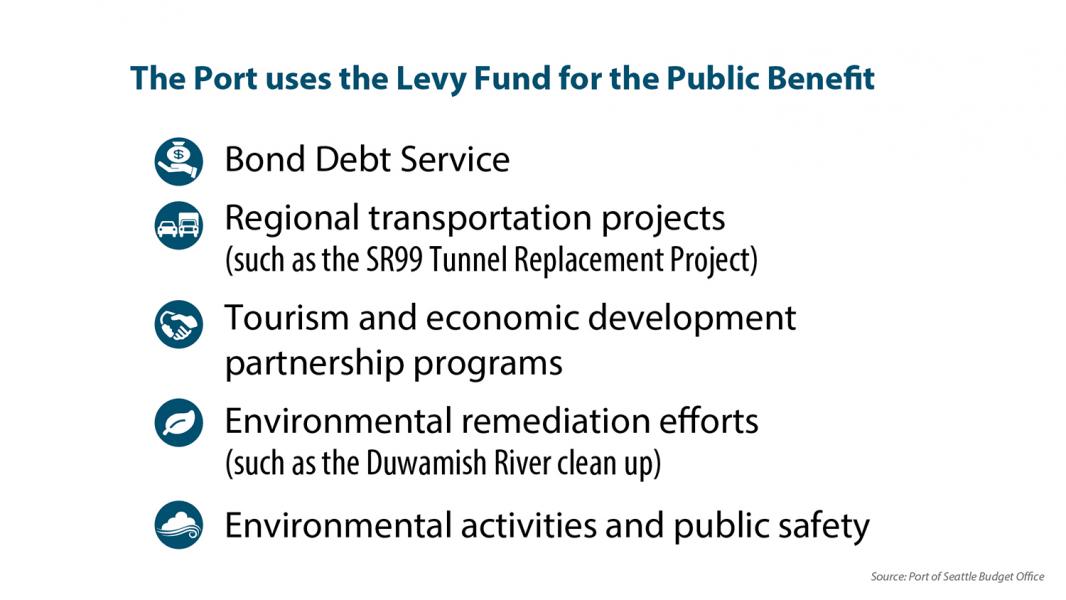 SOURCE OF FUNDS
Under this budget, Port property tax collections will increase from $74.2M in 2019 to $76.4M in 2020. The median household property tax payment to the Port will increase by $1.74 this year, making it $73.3 a year from $71.6. In 2020, it is estimated that of the property taxes collected by King County, just 1.3 percent went to the Port of Seattle. The property tax levy makes up 4.5 percent of the Port's total sources of funds.
Contact
Peter McGraw | Maritime Media Officer
(206) 787-3446 | mcgraw.p@portseattle.org