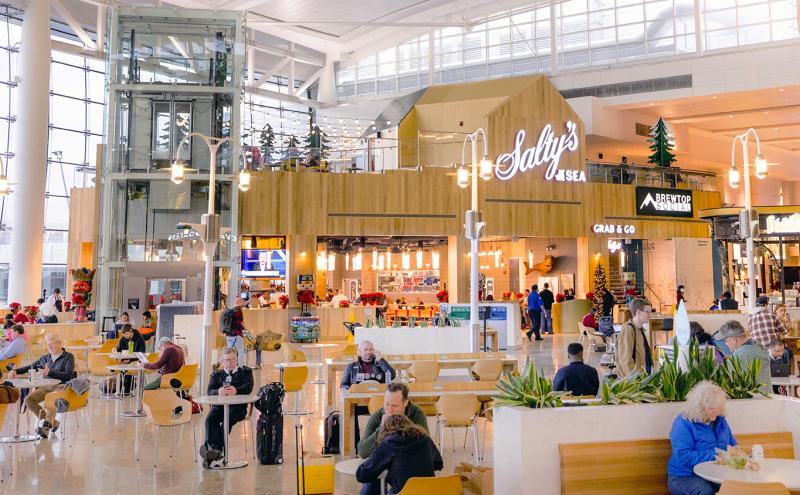 December 13, 2022
Seattle-Tacoma International Airport (SEA) offers travelers comfort and joy this season with more holiday eats, seats, and beats.
This season the airport released a new social video series "Things I Love at SEA" to help you get the most out of your time at the airport.
Featured highlights include the fully restored Central Terminal and its 350-foot-long window wall, popular rocking chairs, and charging plug-ins.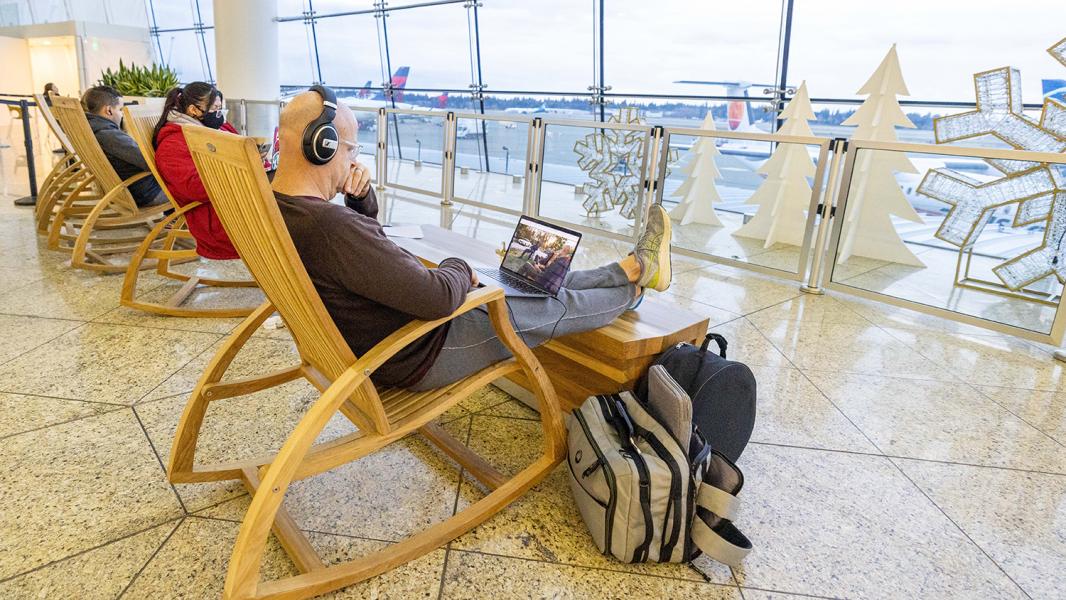 With holiday travel looking likely to hit pre-pandemic levels, a little pre-planning goes a long way to make your trip more predictable and lower stress. Whether you are traveling or supporting friends and family with their travel, our efficiency tips will make you an airport hero.
New things to love about SEA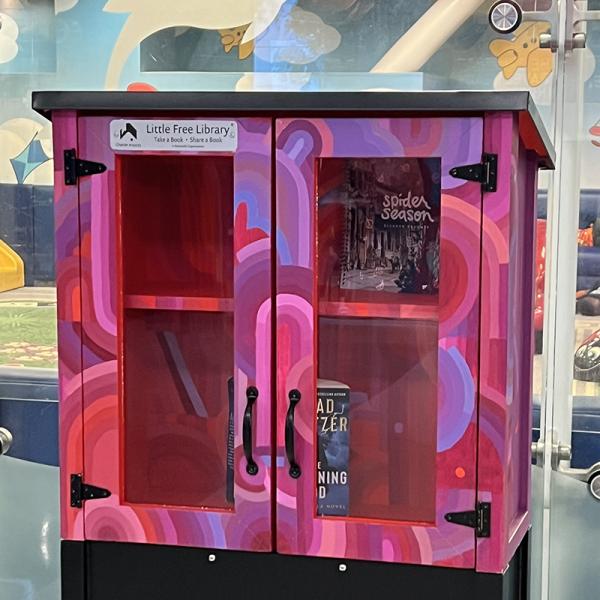 The Central Terminal is re-opened! Salty's at the SEA and BrewTop Social highlights the completion of the north end that also opens seating, dining, and viewing space as the Central Terminal renovation project takes its next big step.
The view is back! Look out the iconic 60-foot high window wall, plug-in with over 100 more chargers, plus extra seating including the return of a long-time favorite — rocking chairs! They are more comfortable, sturdy, and right by the windows!
Music performances expand. Our free music program expands to seven days a week during the holidays beginning December 18. Performances will be from 9 a.m. to 1:30 p.m. located at the Central Terminal, SubPop, and the Marketplace stage at N Concourse. See the schedule for performers and times.
Need a holiday flavor? Try the Savor the Holiday SEAson blog for options throughout the terminal.
How about some reading material? Try the Little Free Library — pickup a book or donate one.
We've Freshened Up for your Fresh Up – check out new restrooms and amenities.
Efficiency tips for predictable, low-stress airport experience
'Be a Hero' to fly past traffic congestion and lines!
Use SEA Spot Saver to reserve your spot in the TSA line — with expanded hours to 10:00 p.m. Sign-up as much as 72 hours in advance online or even at the terminal with a QR code next to the checkpoints. Spots are limited, so sign up early.
Avoid the hassles of driving with Sound Transit's Link Light Rail — the best option out of a traffic jam. Consider alternative modes of transportation to/from the airport like a taxi, ride share option, shuttles, airporters or door-to-door options. From Anacortes to Wenatchee, 13 different shuttle and airporter companies can whisk you straight to the airport with scheduled door-to-door reservations. Yes, you can even bicycle to the airport with bike racks and two ways to access the airport on a bike. Check out your many options.
The new automated parking guidance system continues to upgrade your experience in the garage with easy-to-use lighting marking available/occupied stalls with green/red lights. Right now, five of the eight floors are complete with the rest set to finish by early 2023, and is expected to cut down the time required to find a stall by 50 percent! In the meantime, drivers should expect to spend 45-60 minutes looking for a stall during busy travel periods. Also, please note — we DO NOT reserve parking spaces.
Switch it up to Speed it Up! — Early morning and late evening drivers this is for you! Use the arrivals/lower level to drop off in the morning and departures/upper level to pick up in the evening! You can even check Airport Drive Cameras to see how busy it is on each drive.
Try Order SEA, a mobile ordering service for gate delivery for food from all over the airport or pick up so you can grab and go to your gate.
Download (or update!) the flySEA app for live checkpoint wait times. As a bonus, it also is a one-stop resource for traveler alerts, parking spot tracker, maps, and more info.
By The Numbers
It was only a matter of time, and now it's here – this holiday period is expected to be back to pre-pandemic levels. We got close with 95% of 2019 levels during Thanksgiving. For the winter holidays, we are expected to be at 100%. Specifically, for the holiday period from December 16 to January 3, the forecast is for about 940,000 travelers going through the airport, about the same as 2019 and about 20% above last year.
The busiest days are expected to be the Friday's before Christmas. Both December 16th and 23rd are forecasted to reach 162,000 passengers traveling through the airport (departing, arriving, and connecting). The next busiest will be the adjoining Thursdays December 22 (152,000) and December 15 (146,000). As always, the busiest days to travel are Thursdays and Fridays as well as Sundays and Mondays, with TSA security checkpoints busiest at SEA from 5:00–10:00 a.m., 2:00–5:00 p.m., and 9:00–11:00 p.m.
SEA's latest forecasts of passenger numbers for 2022 will be about 11% below 2019 levels with 2023 down 6% returning to pre-pandemic levels in 2024. Dig in more on our Statistics page.
What's the Best Advice for Travelers?
Get here early! Depending on your needs, you may need more time. Make sure you're at the airport at least two hours before your boarding time for a domestic flight and three hours before an international flight.
Be prepped with your airline ahead of time — Make sure you check their baggage policies, check in, and have all their apps downloaded for efficient travel. See our best baggage tips!
Be ready for security checkpoints. SEA and TSA want to help you move through as quickly as possible. Travelers are required to remove electronics larger than a cell phone from carry-on luggage. Also, remove foods and liquids from your carry-on luggage and prepare to hold up your boarding pass.
Masks are not required at the airport, but highly recommended by King County Health and the CDC to wear during travel. Check your destination's COVID-19 requirements for entry.
Safety First; Avoid Shoulder Parking — Vehicles are encouraged to use the newly reconfigured cellphone lot and avoid dangerous parking along the shoulder of the airport drives. Violators will be cited as the Port of Seattle Police are working with the Washington State Patrol for emphasis patrols during the holiday.
SEA continues to add new services to make travel more accessible and improve the travel experience beyond the Americans with Disabilities Act requirements. Check out our SEA Social Story developed for travelers with sensory sensitivities such as autism, but also great overall tips for kids. Learn more about . The interactive map on the flySEA App offers accessible route directions.
Check with the City of SeaTac to see if there are any road construction projects that might hinder your access to the airport.
Need more travel hacks? Our Customer Care team has the best advice to navigate SEA like a frequent flier.
Contact
Perry Cooper | Port of Seattle Senior Media Officer
(206) 787-4923 | cooper.p@portseattle.org