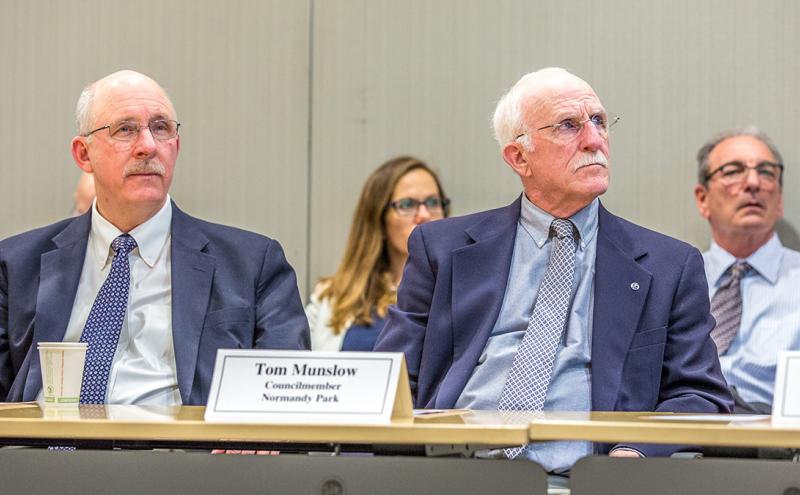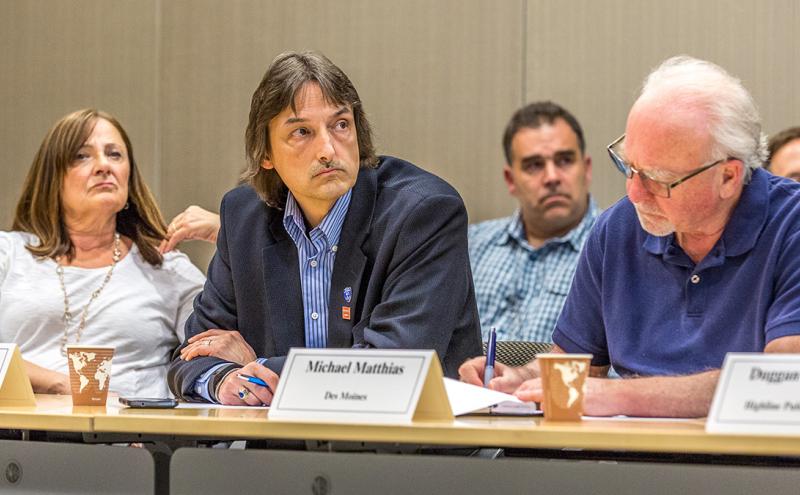 The Highline Forum provides Southwest King County municipalities, educational governing bodies and the Port of Seattle with the opportunity to share information, interact with outside speakers and other governmental organizations and work in partnership on initiatives that benefit the residents of Southwest King County.
One elected representative and one senior administrator from the following jurisdictions or institutions make up membership on the Highline Forum:
City of Burien – Councilmember Pedro Olguin and City Manager Brian Wilson
City of Des Moines – Mayor and Councilmember Matt Pina and City Manager Michael Matthias
City of Federal Way – Mayor Jim Ferrell and Councilmember Lydia Assefa-Dawson
City of Normandy Park – Councilmember Michelle Sipes-Marvin and City Manager Mark Hoppen
City of SeaTac – Mayor and Councilmember Erin Sitterley and City Manager Carl Cole
City of Tukwila – Councilmember Kathy Hougardy and Business Relations Manager Brandon Miles
Highline College – President John Mosby and VP for Institutional Advancement Josh Gerstman
Highline Public Schools – Board President Bernie Dorsey and Chief Operations Officer Scott Logan
Port of Seattle – Commissioner Fred Felleman and Aviation Managing Director Lance Lyttle
An elected representative from the Port of Seattle and a jurisdiction or institution co-chair moderate the meetings. The 2019 Co-Chairs are Commissioner Felleman and Councilmember Hougardy.
Meeting Schedule
The Forum meets six times a year. Meetings are typically held on the fourth Wednesday of January, March, May, July, September, and November from 2:30 – 4:30 p.m. at alternating locations.
2020 Meeting Dates
Due to COVID-19 response and the Washington state and King County Health order limiting the number of people at events and mandated social distancing, the next Highline Forum meeting on April 1 is cancelled.
The next Highline Forum meeting will be held on Wednesday, May 27 and hosted by by the City of Federal Way, as noted below. Please watch for a reminder notice in May.
Date and Time:
Host:
Location:
Directions:
April 1
2:30–4:30 p.m.
Highline School District
Puget Sound Skills Center, Medical Sciences Building (new wing)
18010 8th Avenue S, SeaTac
Map
May 27
2:30–4:30 p.m.
City of Federal Way
 
Federal Way City Hall
33325 8th Avenue S, Federal Way
Map
July 22
2:30–4:30 p.m.
Highline College
 
Student Union Building, Building 8
2400 S. 240th Street, Des Moines
Map
September 23
2:30–4:30 p.m.
Port of Seattle
 
The Conference Center at SEA, International Conference Room
Seattle-Tacoma International Airport, SeaTac
Map
November 18
2:30–4:30 p.m.
City of Burien
 
Burien City Hall, Main Floor
400 SW 152nd Street, Burien
Map
2020 Meeting Materials
Wednesday, January 22, 2020 (Host – City of SeaTac)
City of SeaTac City Hall | Council Chambers | 4800 S 188th St. | SeaTac, WA 98188 | Map
2019 Meeting Materials
Wednesday, November 20, 2019 (Host – City of Des Moines)
Dining Hall at Des Moines Beach Park Event Center | 22307 Dock Avenue S | Des Moines, WA 98198 | Map
Wednesday, September 25, 2019 (Host – City of Tukwila)
Sullivan Center at Tukwila Village | 14350 Tukwila International Blvd S | Tukwila, WA 98168 | Map
Wednesday, July 31, 2019 (Host – Highline College)
Wednesday, May 22, 2019 (Host – City of SeaTac)
Wednesday, March 27, 2019 (Host City – Federal Way)
Wednesday, January 23, 2019 (Host – City of Burien)
Wednesday, November 28, 2018 (Host – Highline School District)
Wednesday, September 26, 2018 (Host – City of Normandy Park)
Wednesday, July 25, 2018 (Cancelled)
Wednesday, May 23, 2018 (Host – Port of Seattle)
Wednesday, March 28, 2018 (Host – City of Federal Way)
Wednesday, January 24, 2018 (Host – City of SeaTac)
Wednesday, November 15, 2017 (Host – City of Tukwila)
Wednesday, September 27, 2017 (Host – City of Des Moines)
Wednesday, July 26, 2017 (Host – City of SeaTac)
Wednesday, May 24, 2017 (Host – Port of Seattle)
Wednesday, March 29, 2017 (Host – City of Tukwila)